Florida unimpressive in win over Tennessee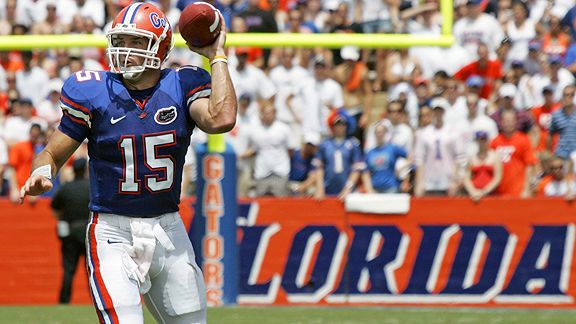 It's my own fault, really. I figured that after Lane Kiffin spent the majority of the offseason running his mouth and making false claims about Urban Meyer that Florida would come out and tear Tennessee a new one when the two teams met in Week 3.
But I came away feeling awfully unsatisfied by the Gators' 23-13 win over the Vols in Gainesville on Saturday. In fact, I was more impressed with Lane Kiffin's defense than I was with anything Florida did today. His front four pressured Tim Tebow all game and safety Eric Berry once again proved that he's one of the best defenders in the nation, if not the best. I thought I was watching Bob Sanders of the Colts with the way Berry played sideline-to-sideline today. I could watch him and Tebow go at it every Saturday. (Did you see that collision in the first half?!)
Again, this was the media's fault. We all figured that Meyer, a man who had no issue with his team hanging 63 points on Kentucky last year, would put together some magical game plan that would embarrass Kiffin and serve notice that he and Florida aren't to be f'd with.
But there was no magical game plan. Tebow was good (115 passing yards, 76 rushing yards and a TD on 24 carries), but far from great as he threw an interception in the first half that led to a UT field goal and fumbled in the fourth quarter, which produced a Vols' touchdown. Florida's lack of playmakers in the passing game was on full display and it's apparent that the Gators are hurting without Percy Harvin and Louis Murphy.
Florida's defense was great again, although Tennessee's offense is vanilla as it comes. Montario Hardesty is all they have and the passing game is non-existent with Jonathan Crompton under center.
I'm not a Florida fan, but I expected more. I expected the Gators to be up by 30 late in the fourth quarter and tack on another touchdown just for good measure. Instead, I'm left wondering if Florida won't get knocked off again at some point this year. I know had Tebow not fumbled and the Gators went on to score in that drive, this probably would have been written differently. But if Tennessee had more playmakers on the offensive side of the ball, it's not unfathomable to think they could have pulled off the upset.