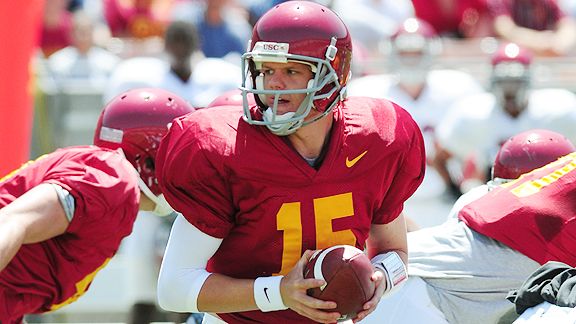 According to a report by the Los Angeles Times, backup quarterback Aaron Corp looks like he'll make his first career start against Washington unless freshman Matt Barkley can recover from a bruised right shoulder.
Unless Barkley makes an improbable recovery from a bone bruise, Corp is on track to be under center when the Trojans open Pacific 10 Conference play on Saturday at Washington.

Corp, who had entered training camp No. 1 on the depth chart, had a pass intercepted for the third consecutive practice. But he continued to show that he was no longer limited by the cracked fibula that he suffered on Aug. 10, an injury that opened the door for Barkley to start the first two games.
Barkley was supposed to take part in a throwing session on Thursday but didn't. I can't imagine that Carroll would start a freshman quarterback on the road in USC's Pac-10 opener – especially considering Corp is the backup.
If it weren't for the cracked fibula that he suffered in summer practice, Corp would have likely been the starter for the Trojans at the start of the season. But now that Barkley has a win at Columbus on his resume, it's going to be hard for Corp to unseat Barkley when the freshman is healthy.
That said, Corp is certainly good enough to stir up a quarterback controversy if he plays well this Saturday. Corp is smart, instinctive and a very accurate passer. Even though he's had trouble with interceptions this week in practice, he usually doesn't make many mistakes either. It'll be interesting to see how he plays this weekend.