Vick anyone? Eagles dominate Panters, but lose McNabb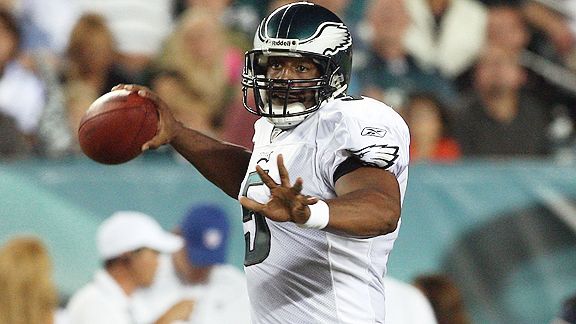 The Eagles thumped the Panthers 38-10 on Sunday in Charlotte, but their mood went from jubilation to concern after quarterback Donovan McNabb suffered a rib injury after rushing for a touchdown in the third quarter.
McNabb was able to walk off the field under his own power, but he was clearly in discomfort when he returned to the sidelines in the fourth quarter. The Eagles haven't announced how long McNabb will be out for, or if he'll be out at all.
What's interesting about this injury is that Philadelphia's backup quarterback is Michael Vick, who won't be available until Week 4 until after he's done serving a three-game suspension. Kevin Kolb will start next week if McNabb can't play.
Even though Vick brings an added dimension to the field as a runner, him starting would be a worst-case scenario for the Eagles. Philadelphia is a serious Super Bowl contender and need McNabb (who is the far superior passer to Vick) under center. Outside of a couple of preseason games, Vick hasn't played in two years and would need time to shake off the rust following his suspension.
But maybe this is all a moot point. McNabb might not miss any time and even if he does, Kolb is going to get the chance to start while Vick is out. If he plays well, it's highly doubtful that Andy Reid would turn the keys of the offense over to Vick.
As for the Eagles' opponents on Sunday, this was a worst-case scenario for a Panthers team that was hoping to put their disastrous performance against the Cardinals in last year's divisional round of the playoffs behind them.
Quarterback Jake Delhomme had another awful performance while completing just 7 of 17 pass attempts for 73 yards and four interceptions. Why Carolina refuses to develop a young signal caller behind Delhomme is beyond me. If his performance on Sunday was any indication of how he'll do the rest of the year, then the Panthers are in serious trouble.
Update: ESPN.com is reporting that McNabb fractured a rib, but Reid stated that the quarterback might still play next week.