Dolphins make crucial mistakes in loss to impressive Falcons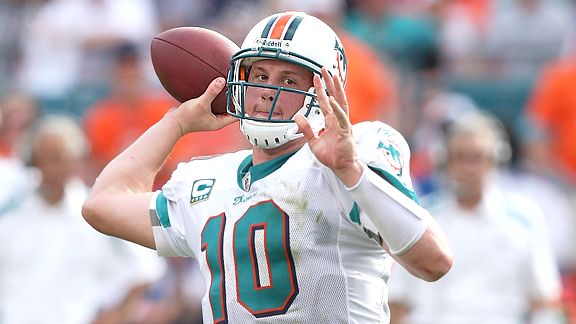 In 2008, Tony Sparano's Dolphins did all the little things right. They took care of the football, they didn't beat themselves and they didn't self-destruct. Thanks to those things, Miami was able to win the AFC East and make an improbable playoff run under a first year head coach in Sparano and an underrated, yet limited quarterback in Chad Pennington.
But in a 19-7 loss to the Falcons on Sunday, the Dolphins did the opposite. They turned the ball over, they shot themselves in the foot with costly penalties and they didn't do the little things right offensively.
The Dolphins turned the ball over four times on Sunday (as opposed to the Falcons, who didn't turn the ball over once) and committed four penalties, one of which cost them a touchdown. They were also just 4 of 11 on third downs, which is staggering given that Atlanta's defense struggled mightily in getting off the field on third downs in preseason.
Speaking of Atlanta's defense, the unit was fast, aggressive and tenacious today. The Dolphins made plenty of stupid mistakes of their own, but the Falcons' defense deserves credit for harassing Pennington (who was sacked four times and never looked comfortable in the pocket) and delivering bone-crushing hits whenever Miami's players got their hands on the ball. For such a young, inexperienced unit, Atlanta's defense was awfully impressive.
Head coach Mike Smith has to be pleased with the overall effort he got from his defense on Sunday. Even though Matt Ryan threw for 229 yards and two touchdowns and six different receivers caught passes (including Tony Gonzalez, who made an incredible catch in the first half and also caught a touchdown pass), the Falcons' offense wasn't as sharp as it could be. They're going to start clicking eventually and if Atlanta can get the same defensive effort this season as it did today, then the Falcons go from being a playoff contender to a Super Bowl contender.