Welcome to college football, Tate Forcier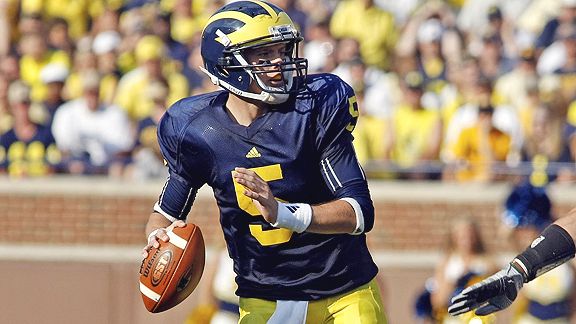 Those that had followed Rich Rodriguez's coaching career knew that his success at Michigan would be ultimately tied into whether or not he could find a quarterback. He didn't have one last year and the Wolverines were an embarrassment week in and week out.
But this year, Rodriguez has found his signal caller of the present and the future in the impressive Tate Forcier.
The freshman signal caller was dazzling on Saturday, completing 23 of 33 pass attempts and racking up 310 total yards of offense as Michigan knocked off No. 18 Notre Dame 38-34 at the Big House. Forcier also threw two touchdown passes (including the game winner to Greg Mathews with under 15 seconds left to play) and ran for a score.
Forcier reminds me of a better, stronger-armed version of Jeff Garcia. Both do a great job of gliding around the pocket in order to buy more time to pass and both can throw while on the run. They're always extremely aware of their surroundings and can also make plays with their legs. (Forcier's juke of a ND defender on his 31-yard touchdown run early in the fourth quarter was freaking sweet.)
Perhaps the most impressive thing about Forcier up to this point (he had a nice game against Western Michigan in the opener, too) is that he doesn't have a great offensive line in protecting him. He hasn't been able to take three or five step drops (not that that's a big part of Rodriguez's offense anyway) and fire the ball into open receivers. He's largely had to make plays on his own and he's been creative while getting the ball into his wideouts' hands.
Forcier has made Michigan relevant again and at least for now, Rich Rod can take a deep breath because he's found his quarterback.
As for Notre Dame, they shot themselves in the foot repeatedly with stupid penalties. They had nine infractions for 75 yards, most of which wiped out offensive gains that could have kept drives moving. Their offense could have racked up nearly 550-plus yards today, but Charlie Weis's team severely lacked fundamentals and it cost them big.