Are Notre Dame and Michigan back?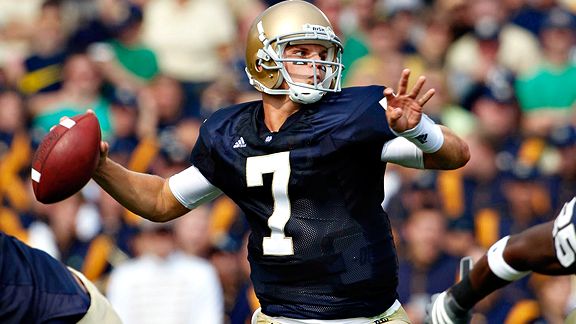 Like every other college football game on this weekend's schedule, the Notre Dame-Michigan contest will take a back seat to the USC-Ohio State battle on Saturday night. But after convincing wins over Nevada and Western Michigan, respectively, some fans want to know whether or not the Irish and Wolverines are getting back to their winning ways.
Scout.com's Richard Cirminiello answers the very question:
Hey, I was as impressed as anyone with the Wolverines' opening day performance, but back? Not quite. As long as the two quarterbacks, Tate Forcier and Denard Robinson, are true freshmen, the program is going to be vulnerable to some un-Michigan-like performances, especially when the schedule toughens and the team ventures outside the campus. That said, it's clear that Rich Rodriguez has his kids in a far better position to compete for a postseason game than he did in his debut season. And that's still a reason to celebrate around Ann Arbor after last year's implosion.

Notre Dame is closer to being back than Michigan, largely because the coaching staff has been in place for longer and the quarterback is on the brink of a Brady Quinn-like ascent. I'm not interested that Jimmy Clausen's last two monster games were against WAC defenses. The strikes he's thrown would beat Big Ten defenses as well. Just go back and check the film. He's always had the talent, but his confidence took a beating in 2007 and 2008. That's no longer a problem. A third year with Charlie Weis and a dynamite ensemble of receivers could be just what the junior needs to get on the tarmac. Plus, if the effort from the young Irish defense in Saturday's shutout of Nevada is a harbinger of things to come, the program has the potential to win double-digit games and bowl in January.
I couldn't agree more. While it was encouraging that they didn't allow another MAC opponent to beat them on their home turf last Saturday, Michigan is still going to experience plenty of rocky moments this year. It's just something a team deals with when its starting two freshmen under center. The Wolverines will be better, but as Cirminiello points out, they're still going to have their bad moments this season.
The key for Notre Dame this year is whether or not they can employ a consistent running game. With Clausen and Golden Tate, the passing game is going to be pretty good. But the offensive line has to make room for ND's backs to have success or else Charlie Weis' offense is going to be one-dimensional and even though the Irish defense is solid, it can win games on its own.