Bucs fire offensive coordinator Jeff Jagodzinski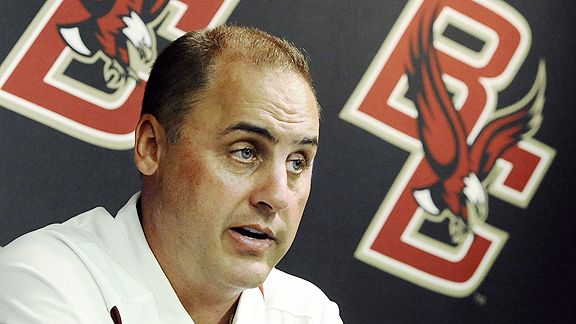 In a surprising move, the Tampa Bay Buccaneers have fired offensive coordinator Jeff Jagodzinski, who was hired in January.
From NFL Fanhouse.com:
Jagodzinski spent the last two seasons as Boston College's head coach, but he was fired early this year after he interviewed for the New York Jets' head coaching job against the wishes of the BC athletic department. He didn't get the Jets job, but new Tampa Bay head coach Raheem Morris hired Jagodzinski as the Buccaneers' offensive coordinator shortly after.

But now Morris has fired Jagodzinski and replaced him with quarterbacks coach Greg Olson. It is not clear why Morris fired Jagodzinski, but the big story in Tampa Bay's training camp this year has been the quarterback competition between Byron Leftwich and Luke McCown, and there's already speculation that Morris and Jagodzinski butted heads over the decision to start Leftwich.
It's important to keep in mind that the offensive terminology will stay the same as Olson takes over, so it's not like the Bucs are going to have to learn a completely new offense. That said, this is not an ideal situation just 11 days before the start of the regular season. If his coaches aren't on the same page, Morris has the right to jettison one of them so that the rest of his staff can be cohesive. But this is a stunner and it'll be interesting to see if any more details are released.
I guess Jags shouldn't have flirted with the Jets last year (which led to his ousting at Boston College).