NBA Rumors: Boozer, Gay, Monta and Rubio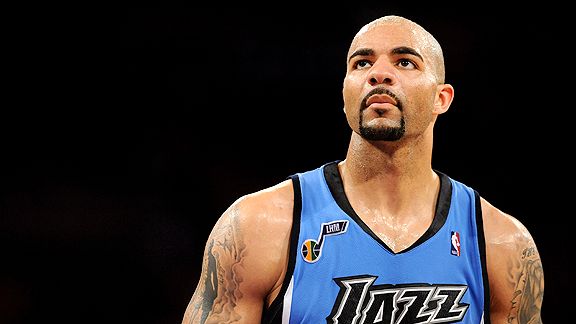 Add the Dallas Mavericks to the list of NBA teams that were — and perhaps still are — interested in acquiring trade-craving Carlos Boozer.
Boozer has also been rumored to be heading to New York as part of a sign-and-trade swap with David Lee.

Rudy Gay wants to stay in Memphis.
"I know what I can do on the basketball court," Gay said. "Everything else will work itself out. I love Memphis. Memphis has been my home. This is where I want to be. I really believe this is where I can make big things happen for myself and the Grizzlies.

"I like what's happened this summer. There was definitely a lot of thought put into this offseason with all the changes. I guess we'll know more about what the changes mean when the season starts."
GM Chris Wallace and Gay's agent, Jeff Austin, haven't gotten into specifics about what they believe to be Gay's market value, and that's where things usually get sticky. We'll see if Gay's goodwill continues as the extension negotiations continue.

Is Monta Ellis on the trading block? Yes, according to Warriors beat writer, Tim Kawakami.
Monta Ellis in Dallas? That I can see, if Dallas would send some short-term deals and if the Warriors would be happy taking a major talent hit just to dump Monta's money.

For all the energy the Warriors have placed in telling us that Monta is their centerpiece and all the sweat issued to dispute my reports that he's unhappy… well, I could very much see Don Nelson working hard to trade Ellis.
The Ellis-Golden State relationship has been heading south ever since Ellis's moped accident. I wouldn't be surprised if the Warriors traded him, though I could say that about anyone on the roster, other than Anthony Randolph, who appears to be untouchable.

Did GM David Kahn use a second round pick to help fund Rubio's buyout?
On draft night, Kahn used a second-round pick to select Henk Norel, a European prospect whose selection had at least one ESPN draft analyst puzzled.

Norel also plays for DKV Joventut.

Might Kahn offer Rubio's Spanish team $500,000 to buy out Norel's contract, too, invite him to training camp and thus, in essence, fund $1 million of the buyout that way?
Kahn is in Spain again, trying to free Ricky.
Comments Off on NBA Rumors: Boozer, Gay, Monta and Rubio

Posted in: NBA, News, Rumors & Gossip
Tags: Carlos Boozer contract, Carlos Boozer rumors, Dallas Mavericks, Golden State Warriors, Memphis Grizzlies, Monta Ellis rumors, NBA rumors, Ricky Rubio, Ricky Rubio rumors, Rudy Gay, Rudy Gay contract, Rudy Gay extension, Utah Jazz