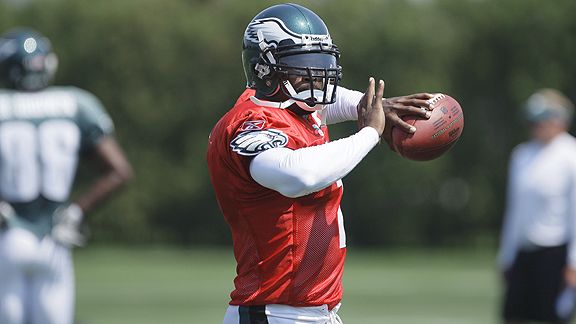 Michael Vick entered Thursday night's game against the Jaguars to a rousing ovation and then proceeded to complete 4-of-4 passes for 19 yards and rushed for one yard on one rushing attempt.
From ESPN.com's recap of the Eagles' 33-32 win:
"It's been a long journey for me," Vick said. "I just want to do it right this time around."

"It was awesome. When I was running out onto the field I was listening to see what the reaction was going to be," Vick said. "I was very pleased. I really didn't expect that reaction, but I was very thankful."

So much for all those protesters and anti-Vick factions. Some fans even chanted "We want Vick!" after he left the game.
It's no shock that fans in Philadelphia embraced Vick now that he's an Eagle. The real test will be when he goes on the road.
As far as his performance went, to say that Vick looked sharp would be a stretch. Outside of a 13-yard completion to Hank Baskett, all of his pass attempts were short and he looked hesitant on the one rush attempt.
But Andy Reid and Marty Mornhinweg are smart if they're going to limit Vick to read-and-react-type plays like they did on Thursday night. He never developed into a great pocket passer, so if the Eagles plan on using him in the Wildcat or as a decoy, then they're adding a pretty good offensive weapon this year. (Especially once Vick shakes off the rust.)