2009 CFB Preview: Georgia Bulldogs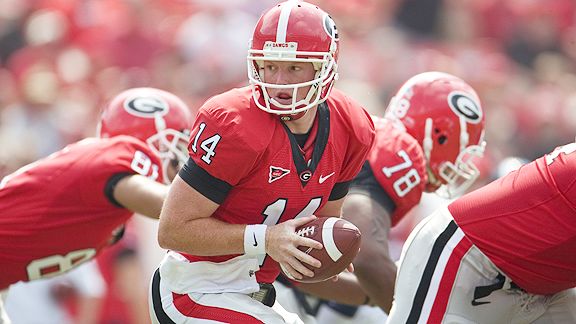 Check out our other 2009 college football previews.
Preseason Ranking: No. 13 in AP Top 25; No. 13 in USA Today Poll.
Key Returning Players: Caleb King (RB); Joe Cox (QB); A.J. Green (WR); Michael Moore (WR); Justin Anderson (OT); Clint Boling (OT); Rennie Curran (LB); Reshad Jones (S); Geno Atkins (DT); Roderick Battle (DE); Akeem Dent (LB); Prince Miller (CB); Blair Walsh (K).
Key Losses: Matthew Stafford (QB); Knowshown Moreno (RB); Mohamed Massaquoi (WR); Tripp Chandler (TE); Dannell Ellerbe (LB); Jarius Wynn (DE); Corey Irvin (DT).
Player to Watch: Rennie Curran, LB.
The 5-11, 222-pound Curran is coming off a tremendous 2008 season, leading the Bulldogs in both tackles (115) and sacks (3), while also tallying 10 tackles-for-loss. He was named a Butkus Award finalist, selected Fourth-Team All-America by Phil Steele and named First-Team All-SEC. Based on what he did last season, Mark Richt and his coaching staff believe Curran could emerge as one of the best defenders in the country. Given his size, speed and tenacity, Curran could certainly post double-digit tackles in every game this season and become one of the more nationally feared linebackers in college football.
Team Strength: On a whole, UGA's defense will be solid this year. Curran is a stud and his partner in crime, Akeem Dent, isn't someone opposing offenses can pick on. The secondary should also be steady, especially with safety Reshad Jones and cornerback Prince Miller returning. Geno Atkins and Roderick Battle should provide consistent pressure on the quarterback, making the entire unit better and more productive.
Potential Weakness: Georgia has more unanswered questions than potential weaknesses. Joe Cox is a safe, serviceable replacement for Matthew Stafford, but is he even the team's top choice as the No. 1 QB? The more athletic Logan Gray is pushing him for the job and highly regarded freshmen Aaron Murray and Zach Mettenberger are also in the mix. While the Dawgs have a slew of talented backs in Caleb King, Richard Samuel and Carlton Thomas, the loss of Knowshon Moreno will still be felt as well. UGA has the pieces to replace Stafford and Moreno, but questions remain about who those pieces will inevitably be.
Outlook: The Bulldogs failed to live up to their lofty expectations last year, but if players like Cox and King can step up, then maybe they'll exceed expectations this year. Georgia seems to be getting overlooked in the SEC this season, which is surprising given how good their defense should be. The offensive line still has a ton of question marks, including the health of tackle Trinton Sturdivant and the overall inexperience of the unit. But UGA certainly has enough pieces to surprise this season and possibly make some noise in the conference. Will they upend Florida? Probably not, but don't be shocked if the Dawgs outplay Ole' Miss or LSU (two teams ranked ahead of UGA in the preseason polls) this year.