2009 CFB Preview: California Golden Bears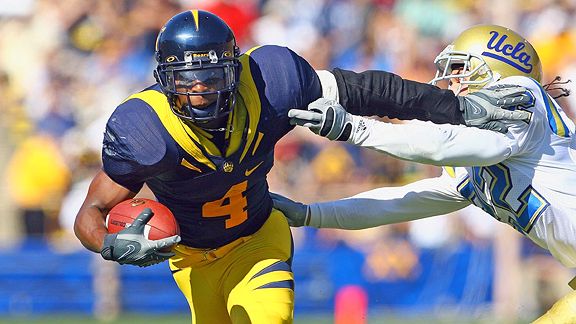 Check out our other 2009 college football previews.
Preseason Ranking: No. 12 in AP Top 25; No. 12 in USA Today Poll.
Key Returning Players: Jahvid Best (RB); Shane Vereen (RB); Kevin Riley (QB); Nyan Boateng (WR); Verran Tucker (WR); Donovan Edwards (OT); Mitchell Schwartz (OT); Mike Mohamed (LB); Tyson Alualu (DE); Syd'Quan Thompson (CB); Marcus Ezeff (S); Darian Hagan (CB); Derrick Hill (DT); Brett Johnson (S); Cameron Jordan (DE); Eddie Young (LB).
Key Losses: Nate Longshore (QB); Alex Mack (C); Noris Malele (G); Cameron Morrah (TE); Worrell Williams (LB); Anthony Felder (LB).
Player to Watch: Jahvid Best, RB.
Best is not only the Bears' best player, but he's easily one of the top 5 players in the entire country. Best is coming off a 1,580-yard, 15-touchdown season and he should become a household name this year given his outstanding playmaking ability. He reminds some pundits of Tennessee Titans running back Chris Johnson given how explosive he is and what he can do in open space. As long as the losses of Alex Mack and Noris Malele along the offensive line don't hurt his production, Best is set to explode in '09.
Team Strength: Although they have to replace three of four starters at linebacker, Cal boasts one of the best defenses in the Pac-10. The Bears ranked 14th in the nation in sacks last year and with the return of Tyson Alualu and Cameron Jordan, Cal should have no trouble getting to the quarterback again this season. The secondary is also loaded, with cornerback Syd'Quan Thompson leading the way and Marcus Ezeff emerging as one of the better safeties in the conference. Cal did lose some talent in Zack Follett, Anthony Felder and Worrell Williams, but this unit is more than ready to compete in '09.
Potential Weakness: After Best, the rest of the offense is a huge question mark. Kevin Riley completed just over 50 percent of his passes last year and was inconsistent while splitting time with Nate Longshore, who won't return. As previously noted, the losses of Mack and Malele along the offensive line are a concern, so is the fact that Cal's receivers weren't consistent last year. Best is outstanding and a true Heisman candidate, but he can't carry the weight of the offense squarely on his shoulders. He needs help.
Outlook: Cal's success revolves around whether or not the offense can step up. Best is outstanding, but the Bears will need better production out of Riley (or Brock Mansion if he unseats Riley) and the wide receiver corps this season if this team is going to be competitive with the likes of USC in the conference. The defense is certainly good enough to give Cal the edge on most Saturdays, but there are just too many question marks surrounding the quarterback, offensive line and wide receivers to think that the Bears will emerge as a title contender or even a conference champion. That said, they're still a sleeper and it'll be fun to watch Best compete for the Heisman.