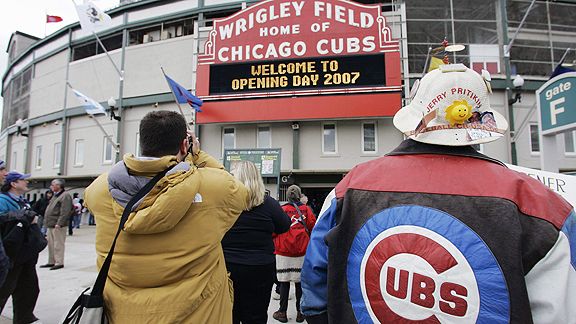 According to a report by the Chicago Tribune, the sale of the Cubs to the Ricketts family appears to be imminent.
Sources close to the matter described the execution of a definitive agreement as "imminent," saying the expected a signing could come within days.

The completion of a definitive agreement would mean Tribune Co. would not be able to solicit any other bids for the team, sources said.

Tribune Co., unhappy with the pace of final negotiations with the Rickettses after selecting the family in January as the winning bidder of a protracted auction, opened discussions with another potential buyer several weeks ago. The prospective buyer wasn't new to the process. It was a group led by New York investor and former Chicagoan Marc Utay, which was one of three finalists in the auction for the team.

The Rickettses have agreed to pay about $900 million for the team, Wrigley Field and a 25 percent stake in Comcast SportsNet Chicago, which broadcasts many Cubs games.
Maybe now that the Cubs will have owners who actually care about the success of the team, the North Siders will open up payroll this winter and spend to win.
Of course, it doesn't help that the club will have Alfonso Soriano and Milton Bradley's ridiculous salaries still on the books. Even so, it'll be interesting to see if the Ricketts can have a positive influence on the Cubs over the next couple of years.