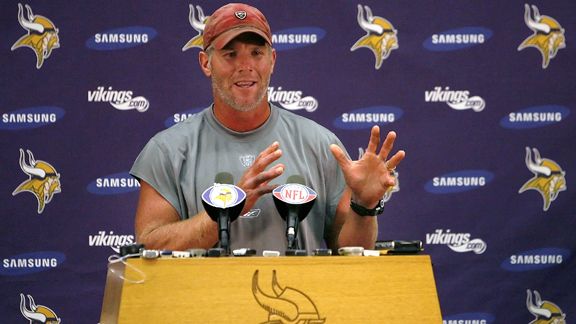 Hall of Fame quarterback Fran Tarkenton ripped Brett Favre recently on Sirius NFL Radio, calling Brett's situation with the Vikings "an absolute circus."
"I really have no interest in what Brett Favre does. He kind of lost me a few years ago by retiring and unretiring and here and there," Tarkenton said on "The Opening Drive" on Sirius NFL Radio.

Tarkenton was later questioned during ESPN's "Outside the Lines" about Favre's right to pursue whatever he needed to pursue to keep on going.

"We have responsibilities we're just not athletes that are in it all for ourself, football, is it not a team game? Isn't it all about team … and here comes Brett Favre riding in on his white horse, doesn't go to training camp, doesn't come to offseason workouts and he's gonna come on his white horse and bond with all these players."

"I really think the whole Brett Favre saga of retiring, unretiring, three weeks ago [saying] 'I can't play,' the Vikings said, 'We're moving on,' it's a circus," Tarkenton said Wednesday on "The Opening Drive." "It's an absolute circus, and it takes away from all the other things that are going on with the Vikings, with the NFL. We're getting ready for a football season and this is a circus and I just have no interest in it.
Favre has every right to make a living and retire and unretire as much as he wants. But while doing so, he leaves himself open to criticism from people like Tarkenton.
For the most part, I agree with everything Tarkenton said. The only problem I have with his comments is that he didn't criticize the Vikings, who are just as much at fault in this situation for allowing Brett to dictate when he would sign. They could have removed themselves from the situation when he told them on July 28 that he would stay retired, yet they allowed him to put himself above the team by skipping OTA sessions and training camp, even though he was healthy enough to perform in the latter. (Don't forget that the Vikings had cleared him to play before his July 28 decision.)
This isn't about Brett needing extra reps; he's been in the league for almost two decades and already knows Brad Childress' offense. This is about him showing up and putting in the work with his teammates (who he'll eventually have to lead in the regular season) during training camp – not just in preseason after the majority of the practices have already wrapped up.
Both Brett and the Vikings share blame in how this situation played out.