Olney: Blue Jays place Rios on waivers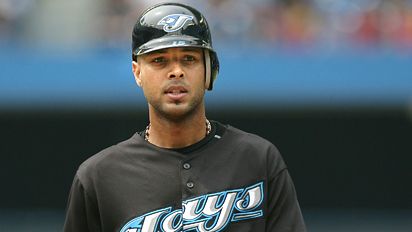 In a surprising development, ESPN.com's Buster Olney is reporting that the Blue Jays have placed outfielder Alex Rios on waivers and an unidentified team has already claimed him.
The Blue Jays, it appears, have three options, and must make a decision by Tuesday, because the waiver period will roll through the weekend:

• They could work out a trade with the team that claimed Rios.
• They could pull him back from waivers, and keep him for themselves the rest of this season.
• They could simply allow the team that claimed him to take him, at no cost.
While this move definitely came out of nowhere, it makes sense that the Jays would want to dump Rios' salary with his ceiling pretty much maxed out at 28 years old. He's probably not going to play up to the $60 million that remains on his contract so if another team wants to take on all of his salary, then maybe Toronto is thinking it should jump on the opportunity and spend the money elsewhere.
What'll be interesting to find out is which team claimed Rios. According to MLB Trade Rumors, several teams including the Mets, Red Sox, Giants, Reds and Mariners did not put a waiver claim on him, so the mystery team remains at large.
The first team that I thought of when I heard this news (and before I checked out MLB Trade Rumors) was the Giants. GM Brian Sabean foolishly toyed with the idea of trading Tim Lincecum for Rios two winters ago, so it would stand to reason that San Fran (who is still a hitter shy of making a serious World Series push) would go after him now. But with the way the waiver claims work in baseball, the Giants would be one of the last teams in line seeing as how they play in the NL (AL teams would have first crack at Rios) and they have the third best record in their league.