Blazers close to signing Brandon Roy?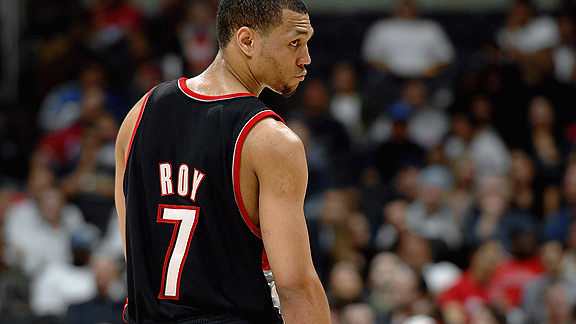 Players drafted in 2006 are eligible to sign an extension this summer. A couple of months ago, I tried to estimate what some of the big-name guys would sign for.
Brandon Roy, G, Blazers
Age: 24
PER: 24.08
Comparables: Kobe Bryant ($23.0 M), Dwyane Wade ($15.8 M)
The Blazers hit a home run with Roy. In his third season, he averaged 22.6 points, 5.1 assists and 4.7 rebounds per game. Moreover, he did it efficiently, shooting a stellar 48% from the field, 38% from long range and 82% from the line. Simply stated, he is one of the league's best all-around players. I'd be shocked if the Blazers didn't offer him a max contract, though he may elect to sign a shorter three- or four-year deal (like LeBron and Wade did) to give him more flexibility in the future. (Just to throw a little salt in the wounds, the Bobcats, Bulls, Hawks and Celtics all had a shot at Roy on the night of the draft and passed.)
Value: $14.5 M – $15.5 M per year, depending on the salary cap
Well, count me as mildly shocked. The two sides actually disagreed on the length, but it was the Blazers who reportedly wanted the shorter deal, not Roy. While one would think that the team would want to lock up their superstar for as long as possible, it is a huge investment. Roy does have a history of injury, so if he were to suffer a major setback, it would be a blow to the Blazers' books.
But as ESPN has reported, the two sides are nearing a deal.
"We've had very productive discussions recently and are optimistic we will reach a deal soon," Roy's agent, Bob Myers said, according to the newspaper.

According to the report, Roy has been seeking a four-year deal with a player option for the fifth year at a maximum $82 million.
That works out to more than $16 million per year, which is a pretty penny. But a healthy Roy is worth it.