Indians trade Victor Martinez to Red Sox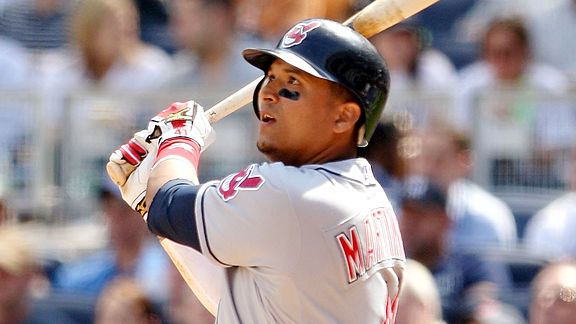 The Red Sox had their sites set on possibly acquiring Padres' slugger Adrian Gonzalez at the start of the day on Friday, but wound up trading for Indians' catcher Victor Martinez instead.
In a completely separate deal, Boston also swapped first baseman with the Braves, acquiring Casey Kotchman for Adam LaRoche.
In this trade, the Tribe will receive right-hander Justin Masterson and minor league pitchers Nick Hagadone and Bryan Price. Masterson was Boston's second-round pick in 2006, going 3-3 with a 4.50 ERA in 31 appearances including six starts this season. He also went 6-5 with a 3.16 ERA in 36 games last year after being called up from the minors.
Hagadone was drafted No. 55 overall by the Sox in '07 and missed most of the '08 season after having Tommy John surgery. Price was the No. 45 overall pick in '08 and has struggled thus far in the minors.
For Boston not to have to give up Clay Buchholz in trade for V-Mart was huge. Martinez is a nice upgrade and adds pop to a Red Sox lineup that desperately needs it, but Boston would have overpaid in a deal involving Buchholz. Now with Martinez and Kotchman, they have options to play with regarding both their lineup and defense, where V-Mart will likely split time at both catcher and first base.
As for Cleveland, it's hard to determine if they got good value in this deal or not – and we may not know that answer for a couple of years, just like we won't know if they got good value in the Cliff Lee trade.
Pundits seem to like Masterson, but he seems to struggling against left-handers and really only has two pitches. Hagadone is a hard throwing reliever who could blow through the minors but he's also coming off of Tommy John surgery and will likely start off in Double-A next year. Price is only 22, but he has struggled so far in the minors.
So if you're an Indians fan, you've got to be in flux right now. Your team traded away its best pitcher and its most popular position player outside of Grady Sizemore, but got a slew of prospects that may or may not develop. You're club is building hope for the future, but the future may be three or four more years away and who's to say that once all of this pitching develops that you might not have any hitting at that time? Then you're just the San Francisco Giants of the American League.
Every Tribe fan across the nation must be sighing right now and saying to themselves, "We'll see."
By the way, it's Victor Martinez bobble head night in Cleveland tomorrow. Whoops…