Bucks poised to pick Warrick over Sessions? Really?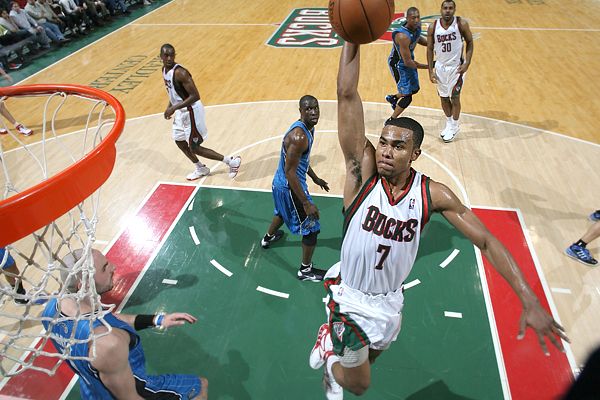 That seems to be the indication, according to ESPN…
There were strong indications Thursday night that the New York Knicks were assembling the final details of an offer sheet they believe will ultimately land Milwaukee Bucks restricted free agent Ramon Sessions.

Terms of the proposed deal were not immediately available, but NBA front-office sources told ESPN.com that the Bucks were indeed bracing for the offer sheet and also more likely to pool the free-agent cash they're prepared to spend this summer to try to beat the Cleveland Cavaliers to the signature of athletic power forward Hakim Warrick rather than matching what's coming to Sessions from the Knicks.
Frank Madden at BrewHoop had this to say about the potential "swap"…
Warrick was one of my fave college players of the past decade, but he's mostly been a role-playing PF with a penchant for high-flying dunks and a poor-to-mediocre mid-range game. Personally I'd prefer to risk the possibility he signs elsewhere in order to maintain the flexibility to retain Sessions, but if the Bucks let Sessions walk then a smallish deal ($2-3 million) for Warrick would be fine with me.
Warrick has a reputation for being a very athletic four who can run and jump, but struggles on the boards and on defense, and doesn't have much of a mid-range game. He has improved his PER in each of his four seasons in the league, hitting a respectable 16.91 last season. But PER tends to favor big men — for example, 39 power forwards had a PER of 16+ last season, while only 20 point guards accomplished the same feat. This makes Ramon Sessions' production (17.65) all the more impressive.
I don't like this idea at all. Now that they have some flexibility underneath the luxury tax threshold, the Bucks should match any offer for Sessions up to the mid-level for the simple reason that he's worth it. It doesn't matter that Brandon Jennings looked pretty good in summer league. Who said that you can't keep two good young point guards on the roster? The Bucks have already given up two assets this summer (Richard Jefferson, Charlie Villanueva) without getting much of anything in return. Now it looks like they are poised to let an up-and-coming point guard get away, and instead use the money on one of the Grizzlies' castoffs.
More and more, the NBA is becoming a point guard's league, so it would behoove the Bucks to hold onto Sessions. If Jennings develops, great — they could move Sessions at a later date.
Related Content: The Bucks need to hold onto Ramon Sessions