Childress: No chance on reconsidering Favre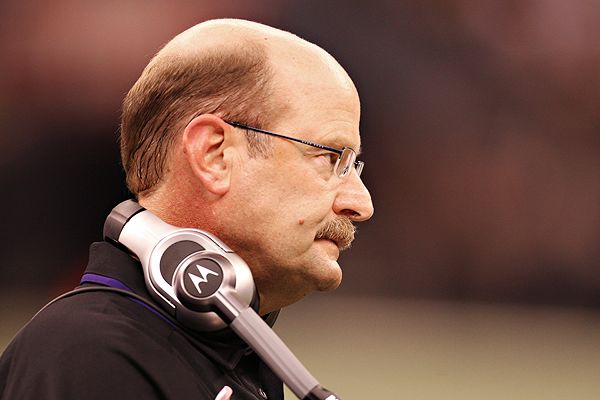 Judd Zuglad of the Minnesota Star-Tribune posted a quote on his Twitter page from Vikings head coach Brad Childress that said:
"There is not a chance from my standpoint," Childress said of Favre talks resuming.
Of course, NFL.com's Jason La Confora writes that Childress would welcome Brett back under the right conditions.
Let's see, in the past 24 hours Brett Favre has called Vikings coach Brad Childress to say he's done, then he began telling various former coaches, media people, analysts, whomever, that he's gonna keep throwing the ball, and how hard the decision was and that if somebody called him Nov. 1, well, heck, he'd probably have to listen and think about it some. So, in essence, it's just the same old thing. This guy doesn't know how to retire. Giving up football is so counter to his very nature that he's becoming the poster boy for wishy-washy antics (John Kerry was dubbed a flip-flopper for far less, it seems), and drawing criticism for self indulgence.

Maybe the NFL is a league of skeptics, but I spoke to a lot of people who think it's far from over. Injuries will occur and the opportunity to ride in as a savior could well develop. A lack of production from the quarterback position — a recent tradition for the Vikings and a reality across the league — could well put Favre right back in Minnesota, and there are people within that organization who believe that Childress would welcome him back under the right conditions.
Personally, I hope Childress means what he said about not reconsidering signing Favre. On one hand, he owes it to his players to field the best team possible to win. But on the other, he owes Sage Rosnefels and Tarvaris Jackson the opportunity to compete against each other in training camp knowing that Favre isn't going to come in once all the hard work has been put in and stake the starting job.
It wouldn't be fair to Rosenfels or Jackson if Favre skipped all the two and three-a-days, then was named the starter just because he's Brett Favre. The Vikings gave Brett a chance to play and he decided not to. Cool, it should be a done deal in Minnesota then and hopefully Childress sticks to his guns.