Posnanski: Top 100 MLB Players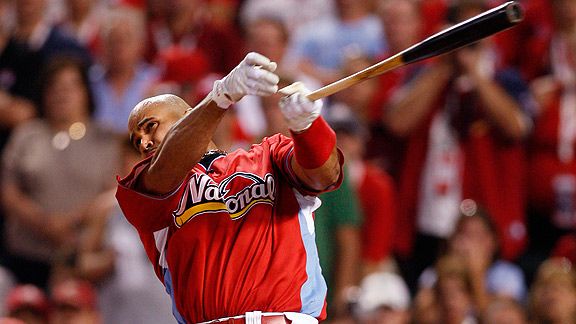 Joe Posnanski put together a ranking of who he believes are the top 100 current MLB players at this moment (as in right now – not over the past two years, three years, etc).
Here is his top 10:
1. Albert Pujols, 1B, Cardinals
"Every hitter is human," says pitcher Zack Greinke (No. 4). "Except Pujols."

2. Joe Mauer, C, Twins
Could win his third batting title this year … no other American League catcher ever has won even one in history.

3. Hanley Ramirez, SS, Marlins
Advanced stats suggest he's better defensively than people think. Offensively, he leads the league in hitting and might have another 30-30 season.

4. Zack Greinke, SP, Royals
Throws four plus pitches, all for strikes, leads the league with a 2.08 ERA, and has won 10 games for a team that has scored the fewest runs in the AL.

5. Chase Utley, 2B, Phillies
Crushes the ball, plays outstanding defense and, just as a fun side note, has led the league in hit-by-pitch three years running.

6. Alex Rodriguez, 3B, Yankees
Disastrous first half splattered with injuries, rumors and a low batting average … and the guy STILL has a 145 OPS+, good for seventh in the AL.

7. Tim Lincecum, SP, Giants
The Freak is pitching even better this year (10-2, 2.27 ERA, league-leading 159 K's) than last year, when he won the Cy Young.

8. Dan Haren, SP, Diamondbacks
League is hitting .187 against him and he has a strikeout-to-walk ratio of 137-18. Baseball hasn't seen anything like that since the heyday of Pedro.

9. Johan Santana, SP, Mets
He was 2-4 with a 6.19 ERA in six June starts and people screamed that he was done. But Santana is a demon in the second half … and sure enough he has not allowed a run in his last two starts.

10. Roy Halladay, SP, Blue Jays
Not sure where he will be pitching … but he will dominate. A handful of the people in the world can throw 93-mph fastballs that sink. A handful of people can pitch with pinpoint control. One man can do both.
It's hard to argue Pujols being in the top spot and with how good Mauer has been this season (especially considering how there were huge concerns about his back in spring training) I'm not going to debate Posanski about his second slot either.
But I guess I'm a little confused about his ranking system overall. He says that he's doing a top 100 of players RIGHT NOW (to use his exact phrasing of the words "RIGHT NOW"), but what does that mean? Over the past two weeks? Over the past couple days? Over the entire course of the season – what?
Because if it's over the entire course of the season, he's got A-Rod way too high and I don't think Johan Santana should be ranked ahead of Roy Halladay either. Also, and I know I might catch some flack for this, but I think Lincecum is the best pitcher in baseball right now. Greinke has been absolutely phenomenal, but Lincecum just recently went 29 innings without giving up an earned run and could easily have 13 or 14 wins if it weren't for the Giants' pathetic use for an offense.
But hey, as with any ranking, you can debate every slot 1 through 100 and I like the feature on a whole.
Comments Off on Posnanski: Top 100 MLB Players

Posted in: MLB
Tags: Albert Pujols, Alex Rodriguez, best mlb players, Chase Utley, Dan Haren, Hanley Ramirez, Roy Halladay, Sports lists, Tim Lincecum, top 100 mlb players, Zach Greinke