Market heating up for Knicks' free agents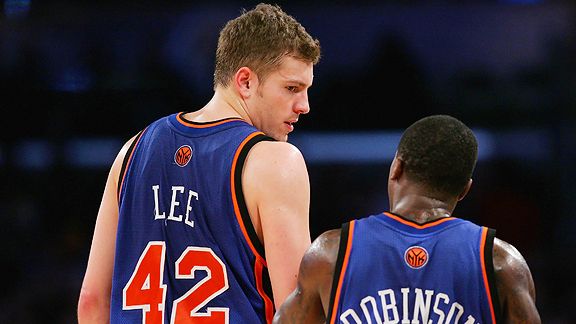 Things have been pretty quiet this summer on the David Lee and Nate Robinson front. But now that the unrestricted free agent market has all but dried up, teams are setting their sights on the restricted free agents that are still available.
Knicks team president Donnie Walsh predicted negotiations with David Lee will come to a head early next week, and indications were Lee will either sign an offer sheet with the Trail Blazers or settle for the Knicks' five-year offer, which agent Mark Bartelstein still believes is below Lee's market value.

he Blazers got back $10 million in cap room when the Jazz matched their four-year, $32 million offer to forward Paul Millsap. Bartelstein is trying to get the Blazers to offer Lee a five-year, $50 million contract, but they have been reluctant, feeling that the Knicks will match.

With his eye on the 2010 salary cap, Walsh is seeking a deal averaging between $7 and $8 million.
Isn't Millsap's value higher than Lee's? Millsap is just as good of a rebounder and can score with his back to the basket. Lee is an energy guy and his numbers are a little inflated since the Knicks play at such a frenetic pace under Mike D'Antoni. Walsh has his value pegged (at $7-$8 million per season), but it is Bartelstein's job to get as much money for Lee as he can.
I don't think the Blazers are reluctant because they think the Knicks will match, I think they're reluctant to give Lee $10 million per season.
Meanwhile, Olympiakos made a strong offer to Nate Robinson.
The Knicks will have trouble competing with Olympiakos' offer to fellow restricted free agent Nate Robinson. A source said the Greek team's offer is equivalent to $10 million a year, factoring in endorsements and merchandising.
Robinson can play next season for $2.9 million and become an unrestricted free agent next summer. If he goes to Greece, the Knicks will still hold his rights next summer. Josh Childress will play for Olympiakos for another season after testing the waters this summer.
The NBA needs to get rid of restricted free agency altogether. If a team can't work out an extension by the summer before the final year of the player's contract then that player should become an unrestricted free agent the following summer.

7/19 Update: The Hoop is reporting that Olympiakos's offer to Robinson is for $9 million over two years.
Finally, the Knicks have interest in Ramon Sessions, according to Gery Woelfel of the Racine Journal-Times. (Actually, he posted this on Twitter.)
I hear Knicks covet Ramon Sessions, expected 2 call Bucks soon about sign and trade. Otherwise prepared 2 use mid-level. Yes, Knicks love Sessions
I've been waiting for the market for Sessions to heat up. I think he's worth the mid-level, so the Bucks better figure out a way to keep him or get something in return.
Posted in: NBA, News, Rumors & Gossip
Tags: 2009 NBA free agency, 2009 NBA free agency rumors, 2009 NBA free agents, David Lee, Milwaukee Bucks, Nate Robinson, NBA free agency, NBA free agency rumors, NBA free agents, NBA rumors, New York Knicks, Portland Trail Blazers, Ramon Sessions