Giants to trade Zito? Fat chance.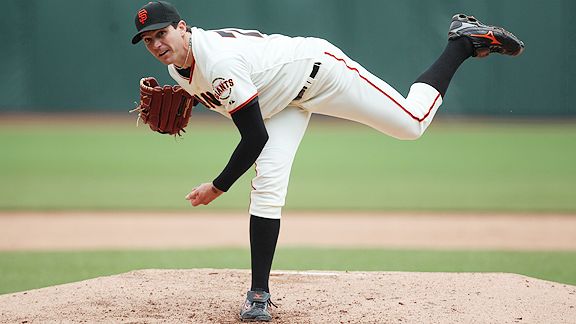 Tim Kawakami of the San Jose Mercury News is a little delusional.
Either that, or my man has been getting high on peyote, because in one of his recent articles he actually suggested that the Giants have to trade Barry Zito.
And the Giants have to very seriously consider trying to trade Zito to any suitable team that will take some of his money (Zito has a no-trade clause); or they have to think about releasing him in the off-season.

Of course, at the end of this season, Zito will still be owed a guaranteed $83 million. Which is a lot.
Releasing him in the offseason might be a viable (expensive, but viable) option with Madison Bumgarner and Tim Alderson tearing up the minor leagues and possibly being ready to join the big league club next year. But what team would be stupid enough to trade for Zito and take on some of his contract as Kawakami is suggesting? Even the win-at-all-cost, spend-at-all-cost Yankees wouldn't touch Zito, especially with Roy Halladay on the market.
Truth be told, Zito hasn't looked as bad this year as he has the previous two seasons. When he's supplying souvenirs to the fans sitting in the left field bleachers, he can be serviceable as a fourth or fifth starter. Of course, he'll still be the highest paid fourth or fifth starter in baseball history, but at least the Giants will be getting something back on their brutal investment.
Either way, nothing is going to happen this year. No team is going to trade for him and with Randy Johnson on the DL the Giants aren't going to release Zito during the season, no matter how bad he pitches the rest of the way. They could potentially move him to the bullpen (which they tried to do for about a millisecond last year), but don't forget that he's typically a good second half pitcher and with the Giants in contention, they'd be better off rolling the dice and leaving him in the rotation.
Better yet while the Big Unit is on the DL, the Giants could pit Zito against Jonathan Sanchez and Ryan Sadowski for the last two spots in the rotation. Loser either goes to the bullpen (Zito/Sanchez) or Triple-A (Sadowski).