Chiefs sign Matt Cassel to new contract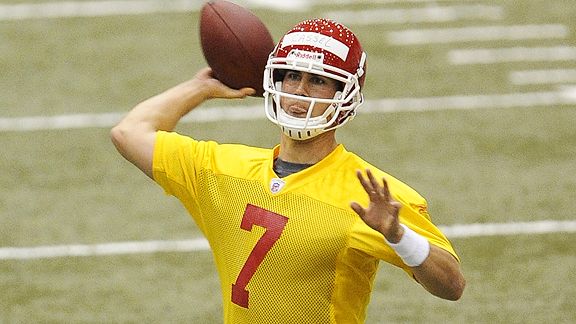 According to a report by the Boston Globe, the Chiefs signed quarterback Matt Cassel to a six-year, $63 million contract, which also includes $28 million in guaranteed money. He'll receive $40.5 million in the first three seasons.
Considering he has just 15 starts in his career, this is obviously a huge risk for the Chiefs. But he would have made $14.65 million this season had KC not signed him to an extension, so the deal is a bargain for the Chiefs, or at least for one season.
Ironically, Cassel will make more than Tom Brady and is now being paid like a top-5 quarterback. But if the offensive-minded Todd Haley can build upon the success that Cassel had in New England, then the financial risk will be worth the reward for the Chiefs.
That said, if Cassel fails miserably, this contract could put Kansas City in contract hell for the next couple of years. But what are they supposed to do? They've desperately needed a quarterback for years and parted with a second round pick to acquire him. The next step was to commit to him financially, so hopefully for them everything will pan out.