MLB Trade Rumos: Halladay, Sanchez and Betancourt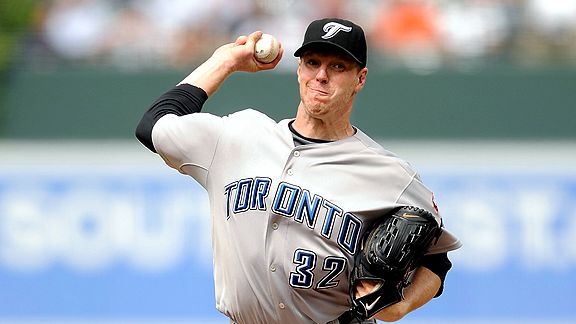 – ESPN.com's Buster Olney is reporting that no team has made an aggressive offer for Blue Jays' ace Roy Halladay yet, but adds that the Dodgers have now entered the "Doc" sweepstakes. Olney still thinks the Phillies have the best chance of landing Halladay, although will their pursuit of Pedro Martinez change that notion?
– Freddy Sanchez is quickly becoming the most talked about player on the trade market (not named Roy Halladay, of course). According to the Pittsburgh Post-Gazette, the Giants would be willing to part with left-hander Jonathan Sanchez in a trade package for Freddy, although the Mariners and Rockies are also heavily pursuing the second baseman. Apparently the Bucs covet Colorado minor league prospect Eric Young Jr.
– The Seattle Times speculates that the M's might be close to dealing Yuniesky Betancourt, who is currently on a rehab assignment with Triple-A Tacoma. To whom and for who Betacourt could be going is uncertain at this point.
– Count the Reds in as a possible suitor for Rockies third baseman Garrett Atkins, who is also on the Red Sox radar due to Mike Lowell's injury.
– If you thought Nick Johnson and Austin Kearns were sure bets to be traded by the Nationals, think again. GM Mike Rizzo told ESPN The Magazine that, "We don't have to move money, and that unites our hands a little bit. That means we're going to make good solid baseball decisions, based on building this franchise the right way.
– Gil Meche doesn't want to go anywhere according to the Kansas City Star, and isn't inclined to give up his no-trade clause so the Royals can deal him.