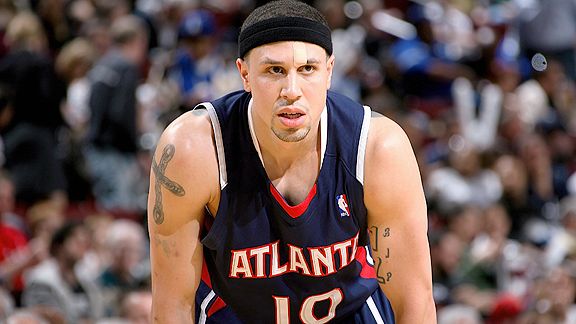 The Atlanta Journal-Consitution first reported Tuesday that Bibby and the Hawks had a three-year agreement for about $18 million, according to sources.

Falk said Bibby and other free agents have found "the market is extremely conservative this year for free agents, compared to last year."

"A number of teams had interest in him … but I think Mike was comfortable in the environment" with the Hawks, Falk said.
I'm not sure what Falk is talking about when he says that the market is "extremely conservative" after the Pistons invested $19 million per season in Ben Gordon and Charlie Villanueva and Toronto is doing everything it can to give Hedo Turkoglu the $10 million per season that he's asking for. Bibby's market value is about the mid-level and that's essentially what he signed for.
It looked like Bibby's days in Atlanta were numbered when the Hawks traded for Jamal Crawford and drafted Jeff Teague, but Crawford is better off the ball and Teague needs to develop, so it makes sense to keep Bibby around for a couple more years. He played well last season, so hopefully for Hawks fans he can repeat that performance now that he's not in a contract year.
It will be interesting to see how this contract affects Andre Miller's negotiations. Miller is two years older and has been asking for a contract starting around $10 million per season, but I don't think he's going to get it. I think his floor is around the mid-level.