Firesale to continue? Pirates exploring trades for Sanchez, LaRoche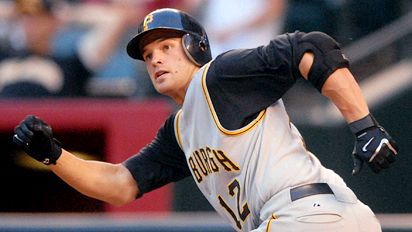 In recent weeks, the last place Pirates have already traded away popular centerfielder Nate McLouth to the Braves, and speedy outfielder Nyjer Morgan, backup fielder Eric Hinske and reliever Sean Burnett to the Nationals. And despite some Bucs players (ahem, Jack Wilson) being critical of the front office's shrewd moves, more might be coming.
According to a report by the Pittsburgh Post-Gazette, the Pirates and Giants have had trade talks involving second baseman Freddy Sanchez and first baseman Adam LaRoche. Although both players are being discussed, Sanchez appears to be the Giants' main target of interest because they prefer a right-handed first basemen and LaRoche is a lefty.
San Fran is currently 1.5 games up on Milwaukee for the NL Wild Card lead and desperately needs offense despite recently feasting on Houston pitching over the weekend (the Giants scored 23 runs in three games). They currently have a gaping hole at second base, where Emmanuel Burriss, Matt Downs, Kevin Frandsen and Juan Uribe have all split time this season.
Sanchez, who currently leads the Pirates in average (.316) and on-base percentage (.832), would be an excellent fit for a Giants team that has a postseason berth in their sights but also doesn't want to give up future prospects in the process. A deal including 26-year old lefty starter Jonathan Sanchez and a prospect or two would probably net Freddy Sanchez, all while allowing San Fran to hang onto top farm players Madison Bumgarner, Tim Alderson, Angel Villalona and Buster Posey.
While moving either Sanchez or LaRoche (or both) would cause another ripple affect on the Pirates' clubhouse and their fan base, both players can be free agents next year and obviously aren't in Pittsburgh's future plans. Much like their prior deals involving McLouth and Morgan, the Bucs are probably hoping to get young players in return in an attempt (however feeble it may be) to compete down the line.
Jonathan Sanchez has struggled mightily this year, but he was viewed as a potential No. 3 starter as early as this year and he has excellent stuff. He has major control issues that need to be ironed out, but at 26 years old he still has a ton of potential and is a high strikeout pitcher.
We'll see if the Pirates and Giants eventually pull the trigger on a deal.