MLB Trade Rumors: Atkins, Escobar, Haren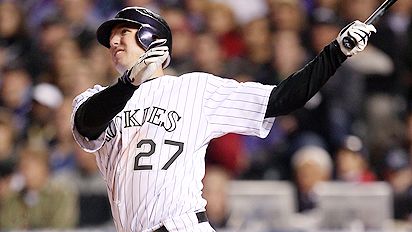 – According to ESPN.com's Buster Olney, the Red Sox might have interest in Rockies third baseman Garrett Atkins after Boston recently placed Mike Lowell on the DL. Colorado is searching for a reliever to help improve their bullpen.
– Rumor has it that the Braves' increasing frustration with the talented, but immature Yunel Escobar could land him on the trade block. Considering he's only 26 and is batting .293 with seven dingers and 40 RBI, there would certainly be a market for him if Atlanta does eventually make him available.
– Even though some believe that the Mets are still actively searching for offensive help, manger Jerry Manuel told reporters that the club "has enough."
– The Arizona Republic suggests that if the Diamondbacks get a package similar to the one they got when they acquired Dan Haren from Oakland a few years ago, the club could still be willing to move the starting pitcher. A trade seems awfully unlikely though.
– The Mariners have reportedly started discussions with the Padres regarding a trade for third baseman Kevin Kouzmanoff according to FOX Sports.com.