Wimbledon: men's semis are set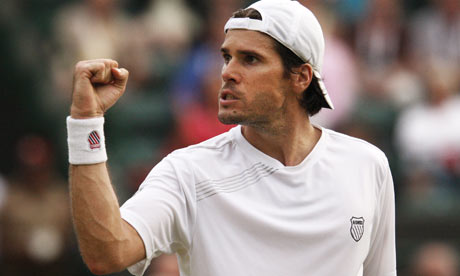 Each of the men's quarterfinals match-ups took place today, and when it was all said and done, Roger Federer, Tommy Haas, Andy Roddick, and Andy Murray had advanced to the next round.
Federer, closing in on his sixth Wimbledon title, reached his 21st consecutive semifinal at a Grand Slam tournament and extended his winning streak to 17 matches with another vintage performance on his favorite Centre Court.

It was Federer's ninth win in 10 matches against Karlovic, who was playing in his first Grand Slam quarterfinal.

Federer's next opponent will be Germany's Haas, who upset fourth-seeded Novak Djokovic 7-5, 7-6 (6), 4-6, 6-3 to advance to his first Wimbledon semifinal. The 31-year-old Haas was the oldest player in the quarters, while the 22-year-old Djokovic was the youngest.

The third-seeded Murray swept Juan Carlos Ferrero 7-5, 6-3, 6-2 to reach his first Wimbledon semifinal and keep up his bid to become the first British player to win the men's title since Fred Perry in 1936.

Murray will face the sixth-seeded Roddick, who served 43 aces and outlasted 2002 champion Lleyton Hewitt 6-3, 6-7 (10), 7-6 (1), 4-6, 6-4 in the day's most competitive match. Hewitt battled back from two sets to one down, before Roddick broke for 5-4 in the fifth and then served out the match — which ended after 3 hours, 50 minutes when the Australian popped up a forehand half-volley past the baseline.

Haas led Federer two sets to love in the fourth round of the French Open, only to lose in five. He said he hopes to make amends on Friday.

"That would be nice," he said. "I'll give it my best shot. There's not much he (Federer) can't do. He's obviously the favorite to win the title. I'm going to go out there and try to annoy him a little bit and see what happens."
With Nadal out of the tournament, I assumed the final four would look something like Federer, Murray, Roddick, and Djokovic or Federer, Murray, Roddick, and Gonzalez. I don't think anyone predicted 34th-ranked Tommy Haas to make it this far, let alone beat the fourth-ranked Djokovic in professional tennis' most popular tournament. At 31, Haas is the oldest player out of the remaining four. He's never made it to a Grand Slam final in his career and he unfortunately has to defeat Roger Federer if he wants to break that streak. However, he's played well against Federer in the past, nearly taking the Swiss at the French Open before being outmatched.
You can catch the women's semifinals tomorrow at 12 PM on NBC. The men's semis will then take place on Friday at the same time and station.