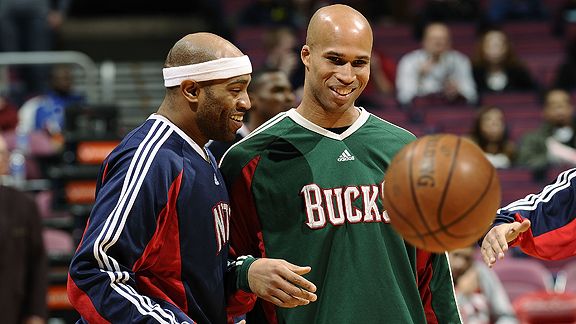 Memphis GM Gerald Wallace took a lot of heat for trading Pau Gasol to the Lakers. But if we've learned anything in the past few days, it's that Wallace was simply a man ahead of his time.
On Tuesday, we learned that the Bucks agreed to trade Richard Jefferson to the Spurs for Bruce Bowen, Kurt Thomas and Amir Johnson. (Fabricio Oberto was part of the original deal, but San Antonio sent him to Detroit for Johnson, who was then sent to Milwaukee.)
Regular readers know I'm a Bucks fan, and I spent the last couple of days grumbling on the Sports Bubbler message boards about how we didn't get anything in return for Jefferson, who is still a pretty good player. When Wallace traded away Gasol, at least he got Javaris Crittenton (who was considered a prospect with upside at the time) and Pau's brother, Marc, who turned out to be a productive center for the Grizzlies.
Then I wake up today to see that the Cavs and Suns have agreed to go through with that long-rumored trade that will send Shaq to Cleveland for salary cap relief. Who do the Suns get in return? A retiree (Ben Wallace), a bench player with a partially guaranteed contract (Sasha Pavlovic), some cash and a second round pick.
This is the going rate for a Third Team All-NBA center these days.
We knew that this summer had the potential to be a rough one for free agents, but it's a little surprising to see that good players like O'Neal and Jefferson could be had for virtually nothing. Bucks owner Herb Kohl and Suns owner Robert Sarver realize that their clubs aren't legitimate contenders, so they don't see the point in paying the luxury tax just for the privilege of being knocked out in the first round of the playoffs. What kind of an effect these moves have on season ticket purchases remains to be seen.
The bottom line is that if a team is willing to spend, there has never been a better time to acquire talent. You're not going to get someone like Caron Butler, who plays for a (pretend) contender and has a reasonable contract, but you can get Jefferson, who is overpaid and is on a mediocre team that is up against the luxury tax. And the older the player, the more likely he's available. Teams aren't going to give up good players that are in their early- or mid-twenties because the plan is to rebuild before they're over the hill.
So who might be on the move for a bag of peanuts and some salary cap flexibility? How about Tracy McGrady, Baron Davis, Chris Kaman, Marcus Camby, Vince Carter, Tyson Chandler, Amare Stoudemire, Jermaine O'Neal, Michael Redd, Ray Allen or Rip Hamilton?
Truth be told, a team like the Suns isn't going to give the youngish Stoudemire away for cap flexibility alone. But as the price of a star goes down, the price of superstar goes down as well.
It promises to be an interesting summer.
Posted in: NBA, NBA Draft, Rumors & Gossip
Tags: 2009 NBA Draft, 2009 NBA free agency, 2009 NBA free agency rumors, Amare Stoudemire, Baron Davis, Chris Kaman, Herb Kohl, Jermaine O'Neal, Marcus Camby, Michael Redd, NBA free agency, Ray Allen, Richard Jefferson, Rip Hamilton, Robert Sarver, Shaq to Cleveland, Shaquille O'Neal, Steve Kerr, Tracy McGrady, Tyson Chandler, Vince Carter