Jonathan Papelbon wants to be a Yankee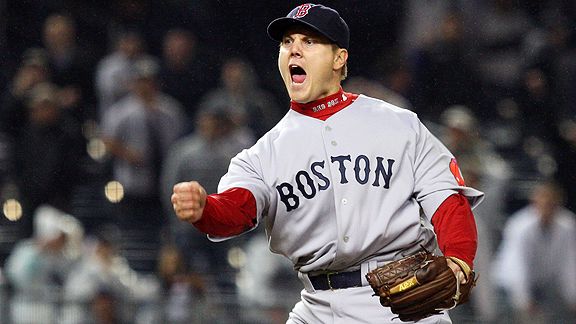 …okay, so Pabelpon didn't really say that he wants to be a Yankee. I just threw out that headline to suck readers into the story. It's called the old bait-and-switch (actually, it's not called anything – I made that up too) and scumbag bloggers have been using the tactic for years. I promise I won't do it again…today.
Here's what Papelbon really said in relation to possibly joining the Bronx Bomers one day:
In an appearance on Sirius XM Radio, Jonathan Papelbon told Jody McDonald and Bert Blyleven that he would consider playing for the Yankees once his Boston career is over:

"Oh, of course. I mean, I think if we can't come to an agreement on terms here in a Red Sox uniform, I mean I think that's pretty much the writing on the wall."

Papelbon says he'd consider joining other teams, too:

"Not only the Bronx, but anywhere. I think anywhere is a possibility. You always have to keep that in the back of your mind because you can't just be one-sided and think that, "Oh, I'm going to be in a Red Sox uniform my entire career" because nowadays that is very, very rare and hopefully we can because there's no question I would love to stay in a Boston Red Sox uniform but I have to do what's best for me and play in an atmosphere where I'm wanted."
Even the mere suggestion of a BoSox player possibly joining the Evil Empire is enough to get Boston fans to throw up their cereal, but Papelbon is just being realistic. He's leaving his options open down the road and while there once was a time when no Boston player would ever dream suiting up in pinstripes, Johnny Damon proved that money and opportunity talk louder these days.
Remember though, Papelbon is under contract with Boston through 2011, so he's still a couple years away from being able to test the market.