NBA consensus mock draft (6/16)
Chad Ford and Draft Express updated their mocks, so it's a good time to take another look at the consensus. I also added Rotoworld's most recent mock to the equation, and added a column ("consensus") that makes a pick if two or more of the mocks agree on a player.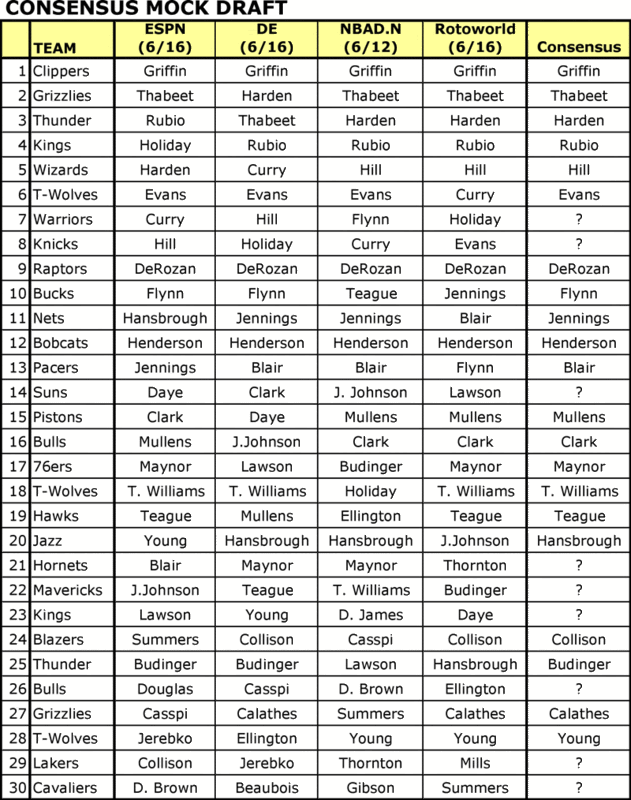 A few random thoughts…
– I was confused about DE's prediction that the Grizzlies will take Harden, when they already have Mayo at off guard, so I emailed the site about it. Jonathan Givony had this to say: "I think they move Mayo to the 1 (his natural position) and use Harden at the 2." Mayo's shot-to-assist ratio and A/TO ratio don't support this theory, but one could argue that Mayo had to launch all of those shots last season to keep the Grizzlies competitive. He's just 6'4″ and certainly has the athleticism to play the point, but does he have the mindset?
– What are the Warriors going to do at #7? Supposedly, they made a promise to Monta Ellis that they wouldn't draft a point guard, so that leaves DeRozan and Hill potentially at #7. This is a point guard heavy draft, especially in the top 10 or 12, so they're sort of painting themselves into a corner. The top PGs won't work out for them, so if Hill is on the board, I think they take him.
– Any chance of the Bucks landing Hill at #10 seem slim at best given the rumored interest from the Warriors and the Knicks. If they stand pat, they're looking at a point guard (with Ramon Sessions already on the roster) or maybe DeJuan Blair and his questionable knees. If I'm John Hammond, I'm dangling Charlie Villanueva and the #10 pick out there in an attempt to move up and grab Hill. I've said time and time again that Sessions has all the tools to be a top 10 point guard in the NBA.
– There are only three picks that all four mocks agree on: Griffin at #1, DeRozan at #9 and Henderson at #12. It will be interesting to see if all three picks come in.
– Nobody has any idea what the Suns are going to do at #14. Is Steve Kerr holding his cards closely to his chest or is he as confused as the rest of us? (Regular readers know that I am no fan of Kerr's management thus far, as evidenced by this and this.)
– Kevin Pritchard might be looking for more of an impact at point guard, but I think Darren Collison would be a good fit with the Blazers. He can run an offense, plays great defense and can hit the open shot. He's like Steve Blake, but he isn't quite as good of a shooter. (He's a much better defender, however.)
– I love Sam Young in the bottom third of the round. He has the potential to be a Josh Howard-type if he puts the work in. The Kings could really use him at #23.
Posted in: NBA, NBA Draft, Rumors & Gossip
Tags: 2009 NBA consensus mock draft, 2009 NBA Draft, Brandon Jennings draft, consensus mock draft, GM Steve Kerr, James Harden draft, Jordan Hill draft, Kevin Pritchard, NBA Draft, NBA Draft rumors, NBA rumors, Ricky Rubio draft, Steve Kerr