Ladies and gentlemen, your World Champion Los Angeles Lakers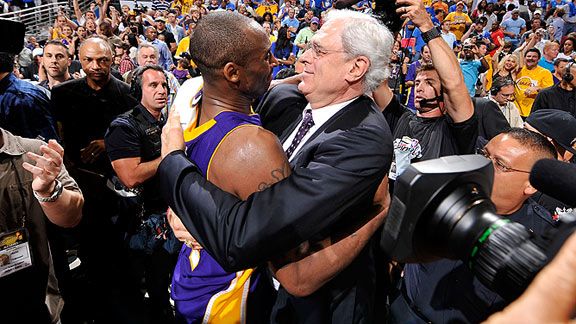 Yep, the Lakers rolled, 99-86, to eliminate the Magic in Game 5 of the 2009 Finals. It is the franchise's 15th title and Phil Jackson's 10th as a head coach.
Kobe got his first ring without Shaq. His legacy as one of the NBA's all-time greatest players is secure. Even though he is the league's most polarizing personality, he deserves a ton of credit for the way he led the Lakers this season. He deferred to his teammates time and time again, and they came through when it mattered most. This is no big deal for a lot of players, but Kobe is a different beast.
Unfortunately for the Magic, the competitiveness of these Finals is going to fade as time goes on. The Lakers' ability to clinch in five games seems dominant on paper and people are going to forget that if not for two plays — Courtney Lee's missed alley-oop in Game 2 and Jameer Nelson's failure to contest Derek Fisher's game-tying three in Game 4 — this series easily could have gone into Game 5 with the Magic leading, 3-1. But by losing tonight the way they did, most people are going to forget how evenly matched these two teams were.
Heading into the offseason, it's going to be interesting to see what's ahead for each of these teams. Hedo Turkoglu, Lamar Odom, Trevor Ariza, Marcin Gortat and Shannon Brown are all entering free agency. If Jerry Buss is willing to go deep into luxury tax territory, the Lakers may elect to repeat this year's success and sign both Ariza and Odom. My guess is that they re-sign Ariza and let Odom go. As for the Magic, they sound like they're willing to go over the luxury tax threshold to re-sign Turkoglu. Gortat is a valuable player, but since he plays behind Howard, it will be hard to justify matching a significant offer.