Five Reasons to Watch the 2009 Belmont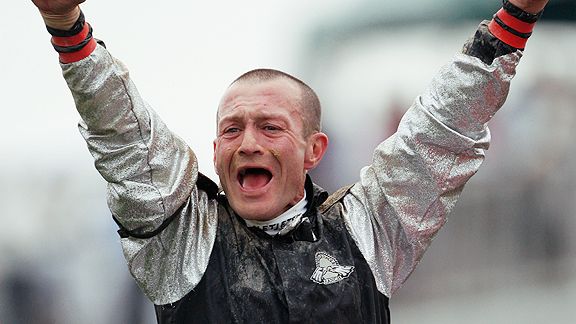 The 141st running of the Belmont Stakes takes place today (post time is at 6:30 ET) and although 2009 Preakness winner Rachel Alexandra won't run, there are still plenty of intriguing storylines surrounding this year's annual race from Belmont Park in Elmont, New York. Here are five of them.
1. Calvin Borel's quest for his own Triple Crown.
Not many people outside of the horse racing world had ever heard the name Calvin Borel before the 2009 Kentucky Derby, but the jockey started gaining a name for himself after riding 50/1 long shot Mine That Bird to victory at Churchill Downs. Then, when the opportunity presented itself a couple weeks after the Derby, Borel once again was the winning jockey, this time riding 3-year old filly Rachel Alexandra to victory at the Preakness Stakes. With Rachel Alexandra skipping the Belmont, Borel has again hitched a ride on Mine That Bird and if he wins today at the Belmont, he would become the first jockey since Steve Cauthen in 1978 to win the Triple Crown. A win would also make him only the second individual to win the Triple Crown by sweeping the three legs in one year while riding different horses. (The other being D. Wayne Lukas, a trainer, in 1995.)
2. Mine That Bird continues his amazing season.
Entering the 2009 Kentucky Derby, Mine That Bird was a 50/1 long shot to win. But thanks to a sloppy track, this powerful horse was able to claim victory at Churchill Downs and turned the horse racing world on its head. (At least for this season, that is.) Even though he won the Derby, many people were convinced that the poor track conditions at Churchill Downs played a major factor in Mine That Bird's victory. Therefore, Rachel Alexandra was made the odds favorite to win the 2009 Preakness and even though the 3-year old filly won, Mine That Bird gained respect by finishing second at Pimlico. Now that Rachel Alexandra is out for the Belmont, Mine That Bird is once again a favorite and with a victory, he should at least gain some notoriety as one of the best thoroughbred racehorses of 2009.
3. Watch out for the dark horse (no pun intended).
One horse to keep an eye on today to play spoiler at the Belmont is Charitable Man (5/1). He has the next best odds to win today behind Mine That Bird and for good reason – he's undefeated so far at Belmont Park and also undefeated on dirt tracks. Charitable Man was bred to race on one and a half mile tracks like the one he'll run on today at Belmont Park and he's also fresh, which is one thing Mine That Bird cannot say after racing in both the Kentucky Derby and Preakness. Nobody is going to consider him a long shot today at 3/1 odds, but if you're looking for a horse to upset Mine That Bird at the Belmont, Charitable Man could be your thoroughbred.
4. Flying Private: The Ultimate Long Shot?
One long shot that is creating a buzz is Flying Private, who has already faced stiff competition at the Kentucky Derby and Preakness Stakes and could be a potential sleeper to give Mine That Bird a run for his money. At 18/1 odds, Flying Private certainly isn't the type of long shot that Mine That Bird (50/1) was when he won the Kentucky Derby, but then again odds makers aren't handing out those kinds of odds today anyway. (The horse with the longest odds to win today is Luv Gov at 25/1.) After a lackluster 19th place finish at the Kentucky Derby, Flying Private seemingly came out of nowhere to finish fourth at the Preakness Stakes and that could mean he's prime to make another leap at the Belmont today. He certainly has the experience and while he might not be as fresh as some of the other horses, Flying Private has already squared off against Mine That Bird twice and therefore he could be your best shot at cashing in on a long shot.
5. This is the finale, so eat it up while you can.
The Belmont is the third and final leg of horse racing's Triple Crown, so soak up the action while you can. While this year's Belmont certainly lacks the excitement of last year when Big Brown was going for the Triple Crown, there are still plenty of reasons to watch today. Enjoy the race and if you've decided to throw a few coins down today, good luck.