Cardinals searching for another bat to protect Albert Pujols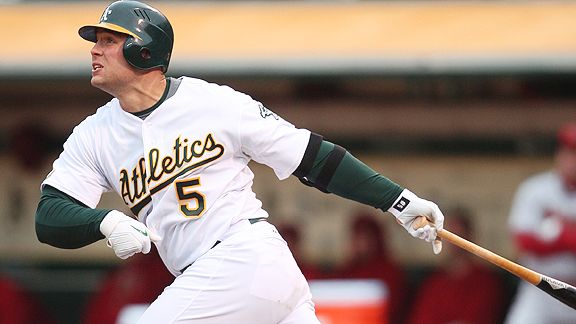 More specifically, Tony La Russa is searching for another bat to project Pujols:
"The No. 1 thing we can get is a guy to hit behind Albert [Pujols]," La Russa said. "That's the No. 1 thing."

And whereas in past years, such comments have sounded like an attempt to prod the Cardinals' front office, on Thursday they had a different tone. La Russa spoke like a man who has expectations, rather than hopes. La Russa indicated that the club has some financial flexibility, and it's clear that St. Louis has some young pitching to deal — especially relief pitching.
"It's really hard to make a significant move," La Russa said. "There aren't many guys that fit what you're looking for. I felt like last year they made an attempt. And since Day 1, we came into this year knowing we were a better ballclub than we thought last year at this time, and we've gotten off to a good start, but we know we're thin."
The most intriguing name that the Cards could eventually pursue would be A's outfielder Matt Holliday.
Oakland currently resides at the bottom of the AL West standings and is 8.5 games back of Texas. Not that they're completely out of contention, but GM Billy Beane could be looking to do one of his trademark deals soon with Holliday set to become a free agent at the end of the year. It's not a matter of if Holliday will be dealt, but when.
Getting back to the Cards, I don't know what they would have to give up to swing a deal for Holliday (and it's not fair at this point to speculate), but adding him to their lineup might be the thing they need to create a cushion between them and the Brewers/Cubs in the NL Central. Of course, a healthy Chris Carpenter remains the biggest factor in how much success St. Louis will have this season, but landing Holliday could make them World Series contenders.