Will the Lions start Stafford in Week 1?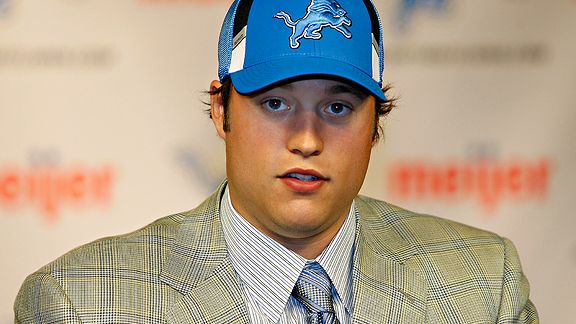 Even though training camp is still over a month away, the talk in Detroit right now is whether or not the Lions should start rookie quarterback Matthew Stafford in Week 1 of the regular season.
Before we debate this topic, let's get something out of the way first because I know there's a commenter out there who just can't wait to throw out this boring, overused statement: It's way too early to know whether or not Stafford should start Week 1 considering it's only June and we haven't seen him take one snap against live action (either in practice or preseason).
But I'm going to throw the topic out there anyway because it takes the sting out of knowing that the NFL season is still light years away. So save all of your, "It's way too early to tell," comments and tuck them under your pillow to be used at another time.
There will be two names that some Lions fans will throw out there when making the argument that Stafford should start as a rookie: Matt Ryan and Joe Flacco. If Ryan and Flacco could respectively lead the Falcons and Ravens to the playoffs, why couldn't Stafford do the same with the Lie-Downs?
The difference is that Ryan and Flacco had help. The Falcons hit a home run with free agent running back Michael Turner, who carried the ball 376 times and helped take the burden off Ryan by opening up lanes in the passing game. Ryan also benefited from having a solid receiver corps (led by Roddy White), as well as an offensive line that overachieved and stayed healthy. Don't forget that Ryan was also considered one of the most NFL-ready quarterbacks to come out of college in the past couple years.
Flacco benefited from having a good but not great O-line, an outstanding running game and a defense that helped create scoring opportunities every game. Like Ryan, Flacco benefited from having a coaching staff that was patient with him and didn't put too much on him too soon. The Falcons and Ravens dumbed down the playbook as much as possible so that they didn't throw a lot at them all at once.
Getting back to Stafford, there's no question that running back Kevin Smith has the talent to succeed, but nobody is going to mistake the Lions' running game for that of the Falcons or Ravens. Plus, Detroit's offensive line is brutal and while Atlanta's defense was nothing to write home about last year, it was certainly better than what the Lions are going to trot onto the field this season.
That said, it's not like the Lions wouldn't be giving Stafford any help. Calvin Johnson is quickly emerging as one of the top playmakers in the game and the team managed to snag the best receiving tight end in the draft this year in Brandon Pettigrew. And if Detroit feels that Stafford is mentally capable of dealing with the massive ups and downs that come with being a NFL quarterback, then there are benefits (gaining experience being the biggest) to starting a signal caller as a rookie.
But the bottom line is that the Lions aren't going to win next year and while new GM Martin Mayhew is trying his best, the roster is still largely devoid of talent. The smarter move for Detroit would be to allow Daunte Culpepper to take the majority of the snaps this season while Stafford learns on the sidelines and Mayhew gets another offseason to stock the roster with more talent. The Lions don't need another Joey Harrington on their hands, nor do they need to rush Stafford onto the field in hopes of generating false hope amongst the fan base.