Otis Smith is the real Executive of the Year
All due respect to Denver's Mark Warkentien, who won the 2009 NBA Executive of the Year Award, but Orlando GM Otis Smith deserves the honor. This is the problem with how the league hands out these awards at the end of the regular season — there's no way to take the playoffs into account. Granted, it's a regular season award, but in that case, wouldn't Danny Ferry deserve it for pulling the trigger on the Mo Williams trade, which led to an All-Star nod for the guard and a 66-win season? Mitch Kupchak also deserves mention for his theft of Pau Gasol (now a year and a half old) along with mining Trevor Ariza and Shannon Brown from other team's benches.
Of course, Warkentien pulled arguably the best in-season move by sending Allen Iverson to Detroit for Chauncey Billups, which gave the Nuggets the toughness and defensive intensity to go from a Western Conference also-ran to a legitimate contender. I didn't like his decision to give away Marcus Camby last summer in a salary dump, but in his defense, his signing of Chris Andersen offset that loss. Still, it would have been nice to have Camby on the roster against the Lakers, but there probably wouldn't have been enough minutes for three centers. Warkentien rolled the dice that Nene was ready to explode and that Andersen could bring energy, rebounding and shotblocking off the bench, and it worked out, for the most part. Warkentien also signed Dahntay Jones, who eventually turned into (sort of) a starter for George Karl, and re-signed J.R. Smith.
Now let's take a look at the job Otis Smith has done (from HoopsHype):
June 7 2007
Released head coach Billy Donovan and named Stan Van Gundy head coach.
July 11 2007
Traded a conditional second-round pick and cash to the Seattle SuperSonics for forward Rashard Lewis.
July 12 2007
Signed center Dwight Howard to a contract extension.
August 27 2007
Signed center Marcin Gortat.
October 31 2007
Signed guard Jameer Nelson to a contract extension.
Draft 2008
Selected guard Courtney Lee (22nd overall pick).
July 10 2008
Signed guard Mickael Pietrus.
July 15 2008
Signed guard Anthony Johnson.
February 19 2009
Traded forward Brian Cook to the Houston Rockets for guard Rafer Alston. Traded center Adonal Foyle and guard Mike Wilks to the Memphis Grizzlies.
So, in the last two years, Smith has 1) locked up his two cornerstones (Howard and Nelson) to long term contracts, 2) traded for the versatile Lewis, who wreaked havoc in the Cleveland series, 3) found two starter-quality perimeter players in the draft (Lee) and free agency (Pietrus), 4) found a couple of hard-nosed rotation guys in the draft (Gortat) and free agency (Johnson), 5) pulled off a deal for Rafer Alston when Nelson went down, and 6) found a guy to coach them all up (SVG) after Billy Donovan left the franchise at the altar.
Smith might be a victim of his own reputation. Prior to Lee, he didn't do well in the draft (Fran Vasquez and Travis Diener in 2005; J.J. Redick and James Augustine in 2006; Reyshawn Terry in 2007), fell for Darko Milicic's potential in 2006, and traded away Trevor Ariza in 2007.
Did Otis Smith plan on this? When he overpaid Lewis, was he thinking, "I need to find a shooter to spread the floor for Dwight?" Was he thinking, "I am going to revolutionize basketball and I need Lewis to help me do it?" Or was he just like a drunk guy at an auction throwing out some insane dollars to make sure he won? I am leaning toward the third scenario, and here's why: Smith basically gave away Trevor Ariza for Brian Cook and Mo Evans last year. Does Cook make any sense for this '09 Magic team? Of course not. Does Ariza? Of course. That's what makes me think Smith stumbled into it. Revolutionary basketball geniuses don't throw cap space away or give up building blocks for no reason.
I think I've written this about fifty times over the past three weeks, but the Magic are built in the same mold as the Hakeem Olajuwon-era Houston Rockets in that they have a dominant big man (who is good enough to command a double team) and have surrounded him with a bunch of shooters. Where the Magic lineup differs from those Houston teams is at power forward, where Lewis' sharpshooting has replaced Otis Thorpe's strength and rebounding. The Rockets surrounded Olajuwon with three shooters, while the Magic have gone one step further and have surrounded Howard with four.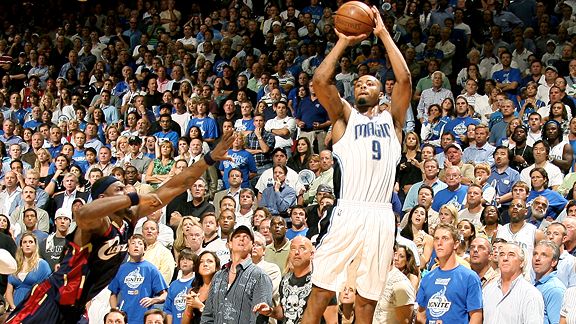 Orlando can get away with this because the league is getting smaller. True centers are a rare breed, and power forwards are going from 6'10" or 6'11" rebounding/post-up beasts to 6'8″ or 6'9″ versatile forwards with a face-up game. Simmons says this is a result of expansion (and a dilution of the overall talent), but it has more to do with the infusion of international players (who prefer to face up) and a tightening of the amount of contact that defenders can lay on the dribbler. In short, the power forward has become a perimeter player, and other than Dirk Nowitzki, Lewis is about as good of a perimeter power forward as there is in the NBA. (Kevin Garnett, David West, Carlos Boozer, Chris Bosh, Antawn Jamison and LaMarcus Aldridge are all power forwards with face-up games, but none of them stretch a defense quite like Nowitzki and Lewis can.)
In all honesty, I still think Smith overpaid for Lewis. I don't know that there was another team in the running, but at that price tag ($110 million), I doubt it. Lewis should be getting $11-$13 million a season, not the $16-$21 million he'll be making over the next five years. Still, you can't argue with the results. The Magic are in the Finals and Lewis is a big reason why.
As for Ariza, which is Simmons' trump card, let's not forget — the guy couldn't shoot a lick when he was in Orlando. He developed his long ball in L.A. and that is one reason why he's flourishing there. Smith knew he needed shooters at every position other than center, so he wanted a swingman who could play some defense, get to the rim, and be a threat from long range. Ariza was capable in the first two areas, but while in Orlando he showed no signs of becoming a decent three point shooter. Smith went out and signed Pietrus, who was able to (sort of) cover LeBron one-on-one and nail 47% of his threes in the series (and 35% on the year). He's also athletic enough to get to the rim when he's crowded on the perimeter. Pietrus is what Smith wanted Ariza to be.
Besides, Simmons should take it easy on Smith. Remember when his favorite GM, Danny Ainge, passed on Brandon Roy in the '06 Draft so he could acquire Sebastian Telfair from the Blazers? They can't all be beauties. Ainge went on to win this award in the 2007-08 season. And Cook…on the surface, he didn't look to be as bad of a fit as he turned out to be. He has size and can shoot it, so Smith might have seen a potential Lewis, Jr. on the horizon. Besides, he turned Cook into Alston after Nelson went down, which was key in getting the Magic to the Finals.
So, even though he didn't have a splashy move like Iverson-for-Billups, Smith deserves this honor, at least in my book.