Tennessee QB Crompton received death threats in 2008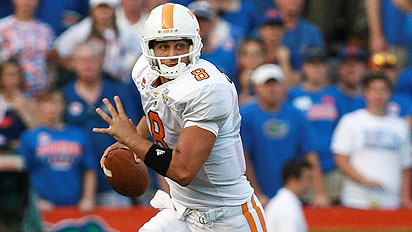 According to a report by ESPN.com, Tennessee quarterback Jonathan Crompton received death threats last season in the wake of the Volunteers losing seven games for only the second time in the program's history.
Crompton received at least two e-mailed death threats during his junior season, the player told the Knoxville News Sentinel.

The problem was brought to his parents' attention after a package they received had slanderous messages scrawled on the box.

"That's when my parents started talking about it," Crompton said, according to the newspaper.
Crompton said he never reported the threats to the school.

He also stayed quiet when he began to receive harassing phone calls after his cell number was made public on the Internet.

"It was tough, I'm not going to lie," he said. "When you're faced with adversity, your true character comes out — as a person, as a student, as a Christian.
"It tested me."
People seem to lose the sense of reality when it comes to sports sometimes. Crompton is only 21 years old – he's still a kid. He's a student athlete trying not only to succeed at sports, but also in the classroom so that he can excel in a career field when he's done playing football. He doesn't deserve to have his life threatened because of what he does or doesn't do on the field – no one does.
I know we're talking about Tennessee football here, but relax people – it's just a game.