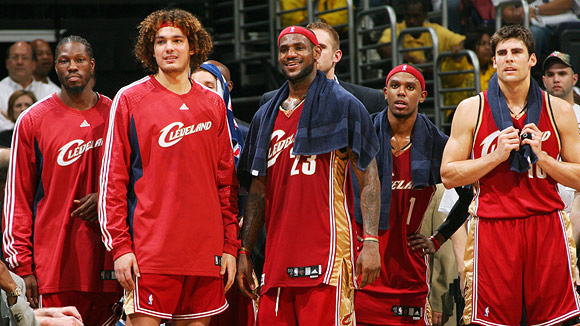 Ben Wallace is considering retirement, Anderson Varejao is likely to opt out of the final year of his contract, and Zydrunas Ilgauskas will play out the final year of his.
Wallace is guaranteed the money and has every right to come back and accept the checks under terms of the deal. More likely if he couldn't play, the Cavs would look to perhaps get insurance to cover some of the salary and look to trade him. He'd be a valuable commodity because of the expiring contract and teams looking to dump salaries covet them.

There is also a possibility that Wallace could negotiate a buyout of his deal and take a percentage of what he's owed. But even in that case it would potentially make him a huge trade asset. A team could trade for him at the value of his contract ($14 million) and then save money by buying him out.
I'm not quite an NBA salary cap expert, but I have a pretty good understanding of the rules. Even so, I'm not sure what the financial impact would be of what Wallace is considering. Without Wallace and Varejao, but with Ilgauskas, the Cavs are on the hook for about $53 million, possibly a bit less since there are a few contracts included that aren't 100% guaranteed. If Wallace were to come completely off the books, that would put the Cavs about $5 million under the cap, which really doesn't help them all that much since they can already sign a player at the mid-level for about $5.8 million. Where a team really gains an advantage is when they have substantially more than the mid-level in cap space.
Wallace could be a great trade asset with his giant salary and willingness to take a buyout. The Cavs could use that trade chip to pry a good player away from a team looking to cut salary. Typically, these aren't going to be franchise-type players; they're going to be overpaid stars. Think Michael Redd or Vince Carter, not Dwyane Wade or Chris Paul. Speaking of the Hornets, they tried to give Tyson Chandler away last season and the Cavs would be a good trade partner if they were thinking about finding a better matchup for Dwight Howard next year. The bottom line is that in this economy, the Cavs are in a position of strength because they are motivated to spend.
As for Varejao, he may find that passing on next year's guaranteed salary of $6.2 million may be a mistake. He's not going to find anyone willing to pay him the $10 million per season that his camp seems to want, but there is probably a team out there that will give him the security of a four- or five-year deal at the mid-level. He'll probably be giving up the chance to play for a contender, and may find himself out of the limelight that follows LeBron everywhere he goes. This can be both a blessing and a curse.
Ilgauskas playing out the final year of his contract is no surprise. He's 33, and he isn't going to find anyone else to pay him the $11.5 million that the Cavs owe him for next season.
One thing is for sure — Cavs GM Danny Ferry is on the hot seat.