Steroid dealer claims he sold to Nationals, Capitals players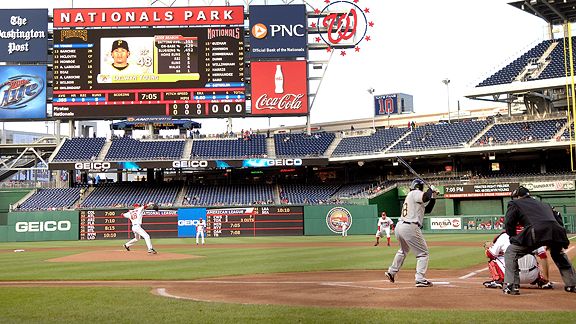 A central Florida man who was charged Tuesday with several counts of possession of illegal steroids and firearms is claiming that he has sold performance-enhancing drugs to Washington Nationals and Capitals players.
Richard Thomas boasted about selling steroids to professional baseball, hockey and football players, saying, "You name the sport, and I've sold steroids to athletes who play it," the Polk County Sheriff's Office said.

Authorities said Thomas didn't name specific players, and they have no evidence he sold to members of those teams.

Investigators who searched Thomas' house in Lakeland on Tuesday recovered thousands of anabolic steroid pills, injectable liquids and syringes with an estimated wholesale value of $100,000, said Carrie Eleazer, a spokeswoman with the sheriff's office. They also found several weapons, including loaded semiautomatic handguns.

Capitals players passed three rounds of drug tests during each of the past two seasons, and neither the team nor officials from the National Hockey League had reason to believe Thomas's claims, the league and the team said in a joint release Wednesday.

A spokesman for Major League Baseball, which also randomly tests for steroids, said the organization is looking into the matter. A message seeking comment wasn't immediately returned by the Nationals.

Thomas told detectives he imported steroids from all around the world, including Iran, Pakistan, Slovakia, Russia, China, Turkey, Spain, Mexico and Germany. The sheriff's office said both Thomas and his wife were semiprofessional body builders, and that he claimed to be the largest steroids dealer in central Florida.

"He was very boastful," Eleazer said.
Well this certainly sounds like a fine, upstanding and trustworthy individual. There's no way he could have made all of this up just to get his name in the paper and possibly be a part of the massive drug scandal that continues to affect professional sports now could he?
Maybe he did sell to Nats and Caps players, but as the article notes, there's no evidence at this point that proves that he did and until there is, he's just a poser looking for his name in the headlines. Well he won't fool me………..crap, I'm writing about him aren't I?