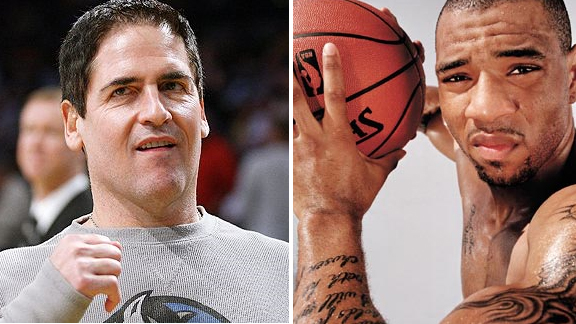 Mark Cuban hoped to put his feud with Kenyon Martin (and Martin's mom) behind him when he apologized on his blog for referring to Martin as a thug after Game 3 in Dallas. But Martin doesn't think Cuban's apology is good enough.
"He's a coward," Martin said about Cuban, according to HoopsHype.com. "He couldn't face it. You all read the only apology that he's made [on his blog].

"The world got to see it before the person who it was meant for got to see it. That tells you how that goes. I ain't never known nobody apology to somebody through other people."

For his part, Cuban called his blog apology a mistake, telling the Web site in an e-mail that he regretted not having contacted Martin's mother in person and in a timely fashion.

"I still intend to apologize to Ms. Moore," Cuban wrote of Lydia Moore, Martin's mother. "I made a mistake and will keep my commitment."

"I would also like to know if Kenyon is going to take responsibility for his actions rather than hiding behind 'no comment,' " Cuban wrote. "Will he apologize to the wife of our staff member that he called a [expletive] fat pig' immediately after Game 3? Will he apologize to fans that he threatened to, and I'm paraphrasing here, '[expletive] beat the [expletive] down' during Game 4?

"Or to the fans he walked by after Game 4, [Martin] cursed and gave the finger to? Will he take responsibility for what he said and did? Is there some reason he has not?"
This isn't a huge deal, but it probably isn't going away until the two speak to each other. They both like to talk to the press, so reporters will keep asking them about the status of the feud, which is only going to add fuel to the fire.