Dolphins revisiting the idea of signing Taylor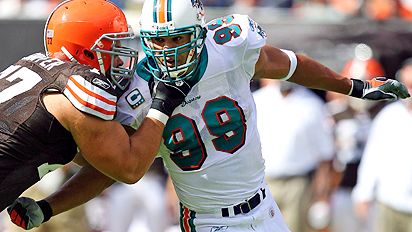 Jason Taylor might wind up getting his wish of re-joining the Dolphins after all.
During a radio interview this morning on Miami's 790 AM, Dolphins head coach Tony Sparano admitted the team was re-considering the possibility of bringing back free agent defensive end Jason Taylor, who is also on the Patriots radar.

"Yeah, we're talking. When I say 'we,' it's myself, Jeff (Ireland, GM), and Bill (Parcells, head of football operations) have talked about Jason and had several conversations about it," Sparano said. "We'll revisit it now that the draft is over and we're getting ready to look down the road at OTAs here pretty soon, so we'll revisit it again and see where we are."

When asked if the Pat's interest in the veteran free agent would influence Miami's decision, Sparano answered, "It doesn't affect us one way or another. I think that at the end of this process it's going to be about – from our end – our interest in Jason and how we see him fitting into our plans. If at that point he ends up in another place, that's nothing I can control."

Previously, the Dolphins stance on Taylor was that his re-signing might stunt the growth of some of their younger players, particularly Matt Roth.
As long as Taylor doesn't hold the Dolphins over the coals in terms of a contract (and why would he at this stage of his career?), signing him seems like a no-brainer. Teams are always in need of quality pass-rushers and Taylor could instill some leadership for a young Miami defense. The Dolphins could sign him to a one-year deal and if he's ineffective, they can move on next year.