Clemens once again refutes steroid allegations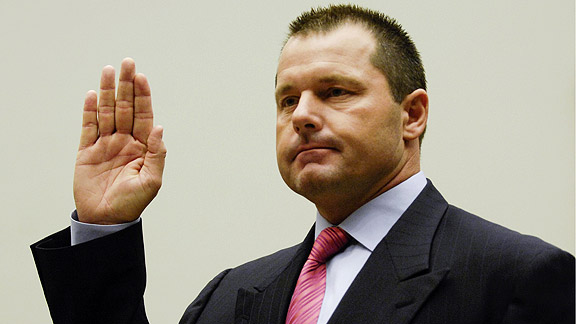 While appearing on "Mike & Mike in the Morning" on ESPN Radio on Tuesday, Roger Clemens bashed the new book "American Icon: The Fall of Roger Clemens and the Rise of Steroids in America's Pastime," written by four New York Daily News reporters, and once again denied being injected with HGH by former trainer Brian McNamee.
When asked about the physical evidence reportedly handed over by McNamee to federal investigators and whether it had his DNA on it, Clemens said "Impossible, because he's never given me any [performance-enhancing drugs], it's as simple as that. He's never given me HGH or any kind of performance-enhancing drug, so it's impossible."

Later in the interview, he said McNamee "… never injected me with HGH or steroids." Pointing out that his family has a history of heart conditions, Clemens said "It would be suicidal for me to even think about taking any of these dangerous drugs."

Asked about Pettitte's testimony that Clemens had told him he used HGH, Clemens repeated a line that he uttered during his congressional testimony: "Andy misremembers." He said he'd only talked to Pettitte a few times since then because of the legal issues.

"I still consider Andy a friend," Clemens said.
One of the biggest crocks in Clemens' testimony is his claim that 'Andy misremembered.' I find it incredibly hard to believe that Andy Pettitte (or anyone for that matter) would have a conversation about HGH and not remember that one of his friends and teammates told him that he had taken the drug.
If I was having a beer with a buddy of mine and he confessed that he was taking HGH, had cheated on his girlfriend, had stabbed a panda, had stolen a car or whatever, I would remember the pertinent details. It's not like that kind of information would go in one ear and out the other, you know?
Clemens is going to get his in the end, because McNamee has cooperated with investigators this entire time. Whether or not Clemens eventually gets busted for lying depends on the evidence, however.