Top 10 Active Gopher Ball Leaders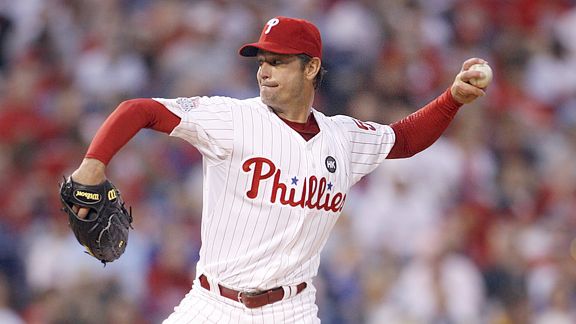 Some pitching statistics are not very complimentary, most of all the gopher ball line….that is, for pitchers who have a penchant for throwing that big fat pitch that a hitter tends to crush over the fence. Here is a list of the active pitchers who lead the majors in this category, and only includes players who are currently on a major league roster:
1. Jamie Moyer, Philadelphia Phillies (474)—Okay, so he's been pitching since 1986 and throws mostly slow junk, but Moyer has given up double digits in gopher balls 16 times, including FORTY FOUR in 2004 while with Seattle, the fifth highest total for a single season in baseball history. And he is only 31 behind all-time leader Robin Roberts, who gave up 505 long balls. Way to go, Jamie.
2. Randy Johnson, San Francisco Giants (399)—We can pretty much give the Big Unit a pass, because he's struck out 4,819 batters and is closing in on 300 wins.
3. Tim Wakefield, Boston Red Sox (363)—All you can say is that sometimes the knuckleball is completely baffling, and sometimes it looks like a soccer ball to the hitter.
4. Tom Glavine, Atlanta Braves (356)—As good as Glavine is and has been throughout his illustrious career, he has always had the penchant for giving up the long ball.
5. Javier Vasquez, Atlanta Braves (304)—Since breaking into the big leagues in 1998, Vasquez has AVERAGED 29 homers given up per season…he's been as low as 20, and as high as 35. Batter up!
6. Livan Hernandez, New York Mets (301)—I read recently where Livan's pitches were clocking in the 62 mph range…..are you kidding me? Yet, he's still getting hitters out with regularity.
6. Jeff Suppan, Milwaukee Brewers (301)—Jeff Suppan has always had decent control, averaging 68 walks per season since breaking in with the Red Sox in 1995. But he's also given up an average of 27 homers per season. Sometimes control means you leave it out over the plate.
8. John Smoltz, Boston Red Sox (277)—Smoltz has only averaged 16 homers given up per season, including a few years as the Braves' closer, but still—you pitch since 1988, your numbers are going to add up.
9. Bartolo Colon, Chicago White Sox (245)—In 2004, Bartolo won 18 games but gave up 38 homers. Somebody must have inspired or bribed him with cheeseburgers the next year when he went 21-8 and won the AL Cy Young.
10. Andy Pettitte, New York Yankees (235)—For all those years with the short porch in right field in the old Yankee Stadium, Pettitte gave up a career high 27 homers while pitching for the Astros in 2006.
Source: Baseball Reference
Posted in: Fantasy Baseball, MLB
Tags: Andy Pettitte, Atlanta Braves, Bartolo Colon, Big Unit, Boston Red Sox, Chicago White Sox, gopher ball leaders, home run balls, Houston Astros, Jamie Moyer, Javier Vasquez, Jeff Suppan, John Smoltz, knuckleball, Livan Hernandez, Milwaukee Brewers, New York Mets, New York Yankees, Philadelphia Phillies, Randy Johnson, San Francisco Giants, Seattle Mariners, Tim Wakefield, Tom Glavine