NBA reviewing actions of Kobe, Fisher, Artest and Alston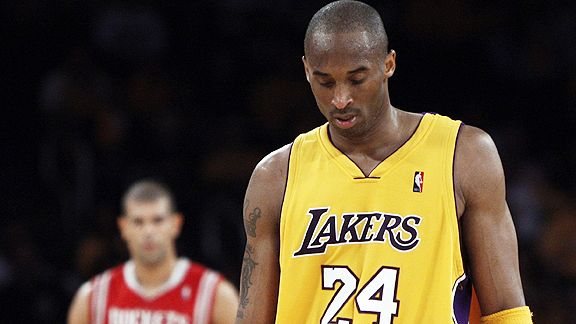 Update: The NBA suspended Fisher and Alston one game each. Kobe wasn't suspended — shocker!
Stu Jackson is a busy man today. He's responsible for reviewing the tape and doling out the suspensions and fines, if necessary. Apparently, he's looking at four different plays from last night's action: Rafer Alston's slap to the back of Eddie House's head, Derek Fisher's premeditated shoulder block on Luis Scola, Kobe Bryant's flying elbow to the neck/chest of Ron Artest, and Artest's subsequent confrontation with Kobe when he was (somehow) called for the foul.
From the replay, it looked to me that Alston was responding to an elbow from House as House celebrated his made shot. House is a pretty annoying player — in fact, my buddy LaRusso pretty much despises him — and the little elbow to the gut was like salt in Alston's wounds. Technically, he didn't throw a punch, which is why there's a question about whether or not he'll be suspended, but you can't go around slapping people in the head. If they do suspend him, I hope they fine House for instigating the event with the elbow. It was bush league.
I wrote about the Rockets/Lakers "chippiness" last night, and my feelings haven't changed much. I think Fisher should be suspended for a game due to the premeditated nature of the hit he laid on Scola. Jackson should also take a hard look at Kobe's elbow because it looked intentional and up in the neck area. As for Artest, I don't think he should have been ejected as he didn't throw any elbows or punches, and the decision to eject him probably cost the Rockets any chance they had at winning the game. Between the foul call on Artest and his ejection, it wasn't the best moment for that officiating crew.
One thing is for sure — the Rockets and Lakers are already sick of each other, and we're still very early in the series. If this thing goes six or seven games, expect a lot more of this kind of action.