Yankees now 0-5 against Red Sox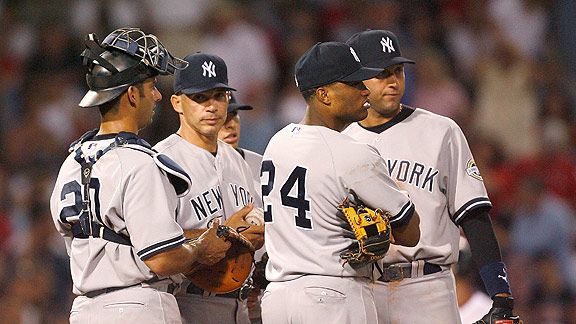 With their 7-3 win over their hated rivals on Tuesday night, the Red Sox swept the Yankees for the second time this season and are now 5-0 against the Bombers this season. Jason Bay hit a two-run homer (his seventh of the season) off Yankees' starter Joba Chamberlain in the first inning to spark Boston's victory.
It's only May, but it has to be somewhat troubling to the Yankees that they are nothing more than a .500 club at this point after spending as much as they did to fix their pitching staff in the offseason. They currently have the second worst ERA in baseball at 5.86 and opponents are currently batting .277 off them to date.
Part of the Yankees' issues, as they're finding out, is that they now play in Coors Field Jr. There's a jet stream in right center at the new Yankee Stadium and opponents are hitting bombs as if the Yankees were hosting the Home Run Derby on a nightly basis. Of course, not having Alex Rodriguez in the lineup has been an issue as well, although he is set to return soon so that all could change.
But what has to be most troubling to the Yankees is that they're just 3-7 against AL East opponents so far this season. And it's not like they were facing the same red-hot Boston team the past couple days that rattled off 11 straight wins during the month of April; the BoSox had just been abused by Tampa entering their two-game series with New York. Opponents have largely teed off on Josh Beckett and Jon Lester so far this season, yet each had solid outings against a Yankee offense that was supposed to once again be one of the best in baseball.
Again, it's early and once A-Fraud gets back into the lineup the Yankees' offensive production should pick up again. Plus, they have always been relatively slow starters before picking it up around the All-Star break, but Joe Girardi and the rest of the Yankees' brass can't feel great that they're sitting at 13-13 with that payroll and are now 0-5 against the Red Sox.