Ovechkin and Crosby begin playoff duel, two teams also play hockey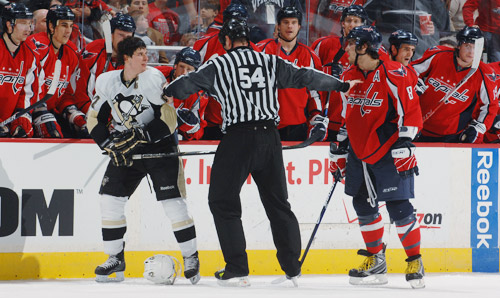 The NHL is banking a lot on the appeal of the series that started yesterday with a 3-2 win for the Washington Capitals over the Pittsburgh Penguins. The reason, of course, is the presence on the ice of the league's two current marquee players: Alexander Ovechkin and Sidney Crosby.
– Brian Anders over at THE LOVE OF SPORTS has an opinion a bit less excited than I think the NHL hoped to elicit:
Look at the major sports. With the exception of the NBA, which has an infinitesimal roster, dream matchups involve teams typically in big markets. The NBA thrives on LeBron v. Kobe, because with only five on the floor and seven on the bench, the superstars will go mano-a-mano for the majority of the game.

With 1:30 to 2:00 shifts and four forward lines, star hockey players go toe-to-toe a lot less often in the course of an NHL game. In fact, over the course of a seven-game series, the stars will actually face off less than the stars do in just one NBA game.
Well, I'd say that mathematically speaking, it's true that face-to-face play time is greater in the NBA than a lot of other sports. But that's certainly not true for individual sports like tennis or boxing, is it? There's no way we can compare them to the NHL or NBA, they aren't even team sports. It's the nature of the beast that team sports don't have common individual match-ups.
And that statement right there is also why I'm not entirely comfortable with the comparison Mr. Anders makes. I can't say it's wrong, but I won't say it's right either. Sure, I gotta admit that some of my favorite basketball games have been duels between opposing players, Jordan vs. Magic or even Jordan/Pippen on Malone/Stockton (guess where my loyalties lie yet?) come to mind quite readily, but even those match-ups were won based on the performances of players in general, not entirely on their crushing of each other.
The NFL's most popular players, to draw on a new example, are by and large the quarterbacks. So it's basically impossible for them to ever truly play facemask to facemask. We judge them on their individual stats and their ability to help their team win. Works pretty well for the NFL.
I don't see that hockey should be particularly different. As a team sport, its raison d'etre is pitting one team against another. I'm excited to see how this series continues because I won't to know who's going to help their team out more. Furthermore, the sport does allow for frequent individual acts of brilliance. Just because Ovechkin and Crosby might not both be on the ice at once all the time does nothing to detract from the incredible plays they are capable of making whenever they play.
They both scored a goal in Game 1. Let's hope that tally only increases over the course of the series. It's a shame I can't watch the game without some serious cable TV, but that's another post by itself…