The NBA's Top 10 Franchise Players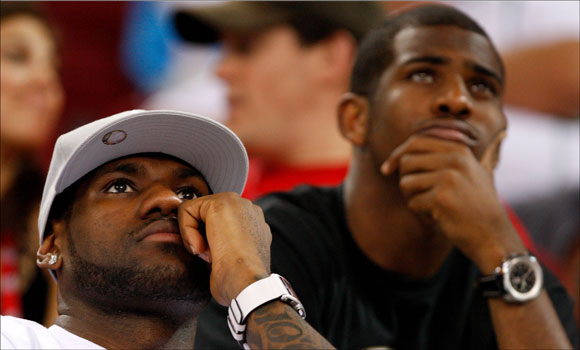 Every so often, I'll be sitting at a bar, throwing back a few adult beverages with a buddy or two and I'll pose the following question:
If you could have one current NBA player to build your franchise around, with the goal of winning a NBA title in the next five years – who would it be?
Since the 2009 NBA Playoffs are in their infancy, it seems to be as good of a time as any to kick around this question. My criteria are simple – a franchise player has to be able to carry his team, while being reasonably young and injury-free.
We'll count down from #10 to #1. My top nine guys were pretty easy to list, but #10 was a bitch. Maybe you can help me decide. Feel free to provide your own top 10.
HONORABLE MENTION
Yao Ming, Rockets (28 years-old)
I love Yao's post up game, and he is a skilled passer, but the chances are only 60/40 that he'll be healthy for any given playoffs and those odds are only going to decrease as time wears on. He's like Robert Downey, Jr. — he's great at what he does, but you just don't know if he's going to be there when you need him.
Chauncey Billups, Nuggets (32)
He seems to be more responsible than 'Melo for the Nuggets' great play this season, but he's 32 years old. Still, his effectiveness depends more on strength, steady play and good shooting than it does his (somewhat limited) athleticism, so he should be able to play into his late thirties.
Al Jefferson, Timberwolves (24)
Jefferson is one of the few young, back-to-the-basket post players in the league. He averaged 23/11 on a bad team, which leads me to believe he could post 19/10 on a playoff team, and should only get better with age.
Amare Stoudemire, Suns (26)
He's four years younger than our next guy, but he's already had two serious injuries in his career so one wonders if this is a trend. He also seems to be a little bit on the selfish side and has a rep for being a bad defensive player.
10i. Dirk Nowitzki, Mavs (30)
Nowitzki already took a team to the Finals, and if not for the officials' love affair with Dwyane Wade, he'd have his ring. But he's already 30 and seems to have a weird stigma about him. Can he really carry a team to the Finals again?
10h. Carmelo Anthony, Nuggets (24)
I don't know what it is, but I'm just not sold on 'Melo as a so-called "franchise" player. He has a rep for being lackadaisical on the defensive end, but there is no doubt he's a terrific scorer. Still, it should be hard to find fault with a franchise player; Anthony has a chance to alter the course of his career with a good performance in these playoffs.
10g. Carlos Boozer, Jazz (27)
He's a gritty post player and rebounder, but seems to be a little injury prone. I don't think he's worth a max deal given the amount of time he spends in the training room.
10f. Chris Bosh, Raptors (25)
Bosh's stock has slid with Toronto's poor season. Throwing the record out for a moment, this is a 6'10" 25 year-old who has averaged better than 22.3 points and 8.7 rebounds in four straight seasons, and players like that don't fall off of trees.
10e. Kevin Garnett, Celtics (32)
He's more than just a smooth seven-footer with a great jumper. He's a defensive force, both on his man and in his ability to raise the level of play of his teammates. He'd be higher, but that knee injury has me worried about his long-term effectiveness. Is he wearing down? (Yes.)
10d. Joe Johnson, Hawks (27)
Given all the talent around him, he should be shooting better than 43% from the field. He's a very good all around player – sort of a Kobe Lite.
10c. Paul Pierce, Celtics (31)
Pierce plays toe-to-toe with any wing on this list and usually comes up huge in crunch time. He gets the nod over Johnson because he can score in a plethora of ways and is a gritty defender. I love his game, but at 31, how many good years does he have left?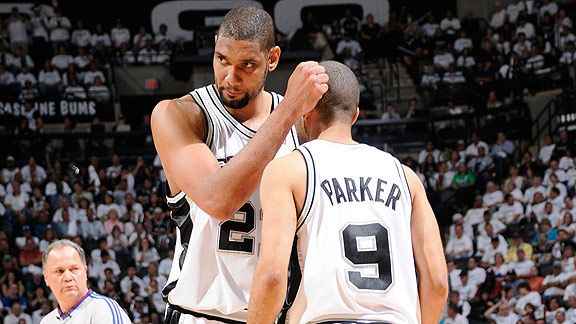 10b. Tim Duncan, Spurs (32)
He's 32 and his numbers are on the decline. But he still plays big in the playoffs and even if he's only "Duncan effective" for the next three years, wouldn't you rather have that than five years of Boozer or Bosh?
10a. Tony Parker, Spurs (26)
It's hard to tell how much of his success stems from having Duncan (and Manu Ginobili) on his team. He's lightning quick and is getting more and more efficient from the field. At just 26 years old, he has a ton of seasoning and is a proven winner. It's hard to beat that.

9. Derrick Rose, Bulls (20)
Some may say that Rose is a little high on this list, but he was thrown to the wolves and came out the other end as the clear Rookie of the Year. He can pretty much get to the rim whenever he wants and once he develops a consistent jumper (which looks like it will happen sooner rather than later), he's going to be unguardable.
8. Brandon Roy, Blazers (24)
Roy is one of the league's best young scorers. He can play off the ball or handle the point, and with his 48% accuracy from the field, he's very efficient with the ball. Given his ability and versatility, I'd have no problem making him the centerpiece of my franchise.
7. Deron Williams, Jazz (24)
6. Chris Paul, Hornets (23)
Why bother writing separate blurbs for these two? They'll be connected at the hip forever. This time last year, CP3 would be higher, but he's playing too passive in these playoffs and his team needs him to score. Conversely, Williams is doing everything imaginable to keep the Jazz competitive. The mark of a great point guard is knowing when to get your teammates involved and when to take over the game. Williams seems to have the better killer instinct right now, but Paul's MVP-worthy 2007-08 season still lingers in my mind.
5. Kevin Durant, Thunder (20)
I'm going with upside here. Durant made a huge leap from last season, increasing his three-point accuracy by almost 14%, while averaging 25.3 points and 6.5 rebounds. And the kid is only 20 – can you imagine what kind of overall game he'll have in another two or three years?
4. Dwight Howard, Magic (23)
Howard is 6'11", strong as an ox, and has averaged 21/14 over the last two seasons. His post up game is improving and he's the reigning Defensive Player of the Year. Those are just a few of the reasons why he's the only PF/C in the top 9. The fact that he's such a rare commodity makes him that much more valuable.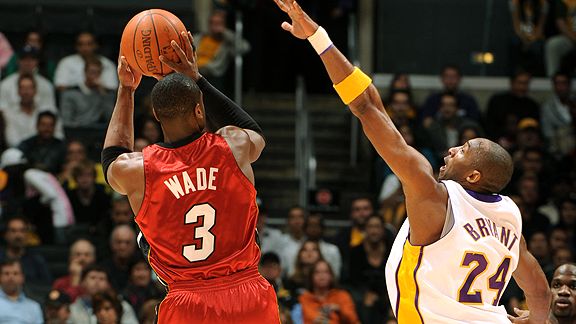 3. Kobe Bryant, Lakers (30)
2. Dwyane Wade, Heat (27)
This is a pretty tough call because Kobe is three years Wade's senior, so it's a safe assumption that Wade will be the better player over the last two years of the five-year period in question. His play this season has been phenomenal, and if you replace Kobe with D-Wade on the Lakers, I don't think there's much of a drop-off. Still Kobe is Kobe, and if he fails to win a title this season, there will be no player hungrier for one in the next five years. However, I think the Lakers will get a ring this season, so I'm going with Wade for the next five years.
1. LeBron James, Cavs (24)
No surprise here. He's already in the top two in the "best player in the world" conversation and he's six years Kobe's junior. There is no ceiling on how good he can be. If he shows a Jordan- or Kobe-esque offseason work ethic, he could be the greatest player ever to play the game. If he continues to ignore the post, teams may figure out a way to slow him down (i.e. play off him on the perimeter and send over help on his first dribble). He has drastically improved his defensive intensity and free throw shooting from a year ago, so things are looking good. Very good.
Looking at the list, I think I'd only give a max contract to the first nine players. The fact that I could make an argument for any of those players in the 10th spot tells me that there's a drop-off in total value after Rose. Part of the problem with salaries around the league these days is that there are far too many max contracts out there. Just because a guy is the best player on any given team, it doesn't make him worthy of a max deal.
So those are my top 10 – what about you?
Posted in: NBA
Tags: Amare Stoudemire, Brandon Roy, Carlos Boozer, Carmelo Anthony, Chauncey Billups, Chris Bosh, Chris Paul, Deron Williams, Derrick Rose, Dirk Nowitzki, Dwight Howard, Dwyane Wade, Joe Johnson, John Paulsen, Kevin Durant, Kevin Garnett, Kobe Bryant, LeBron James, max contracts, Paul Pierce, Tim Duncan, Tony Parker, Yao Ming