Will Greg Paulus play football at U of M?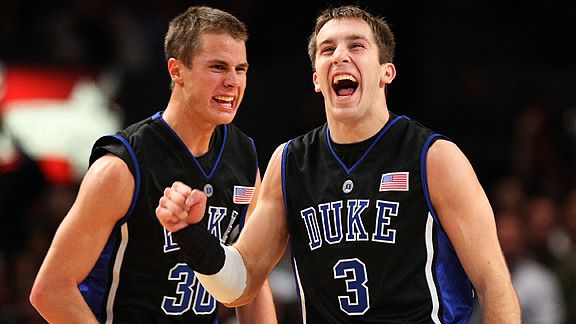 Before becoming one of the most hated college basketball players in the country, Greg Paulus was a really good football player in high school.
Paulus, 6-foot-1, 180 pounds, was a four-time all-state player at Christian Brothers and a starter in the U.S. Army All-American game, and set six state passing records. Christian Brothers was 42-3 during his time there, and he had 11,763 career passing yards and 152 touchdown passes in 45 games.
Paulus visited the Michigan campus this week and TonyBlogs.net says that he'd be eligible to play right away.
Although Paulus played four years at Duke, he has one year of eligibility remaining for football under NCAA rules. He would also not have to sit out a year if he transfers, as he would if he were switching to play basketball, which would allow him to potentially be the starting quarterback for the Wolverines in 2009.
By most accounts, Paulus was a better football player than basketball player in high school, though he was obviously pretty good in both. I'd like to see him have some success in this endeavor after Coach K benched him mid-season to give the Blue Devils a more athletic lineup.