Steve Nash wants to stay in Phoenix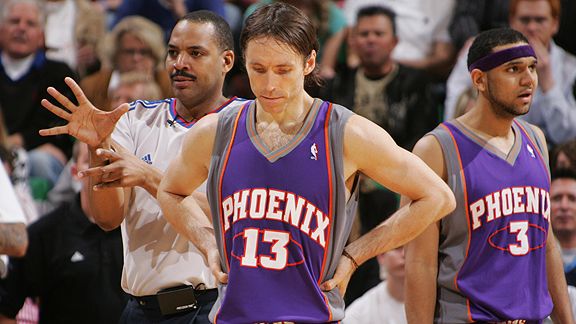 Eliminated from the playoffs, it's time for the Phoenix Suns to look forward to next season. For his part, Steve Nash says that he would like to stay…
After missing the playoffs, Nash could decline an extension if he is unhappy with the offer or the off-season plan. He wants to play four more seasons.

"My first priority is to sit down and listen to Steve and (Suns Managing Partner) Robert (Sarver) and hear what their wish is and what their plan is for the team," Nash said. "I can be a part of us revamping here.

"I'm under the impression they want to talk an extension, and I do, too. Hopefully we can find ourselves in a position where we can revamp and be back in the playoffs and hopefully be a contender. Hopefully I'll be a part of the plan."

Nash, 35, still is a special offensive player. If he maintains his fifth consecutive 50 percent field-goal shooting season in the final two games, Nash would become the first player in NBA history to record three seasons in which he shot 50 percent from the field, 40 percent from 3-point range and 90 percent from the free-throw line. Nash went from averaging 13.8 points under Porter to 19.1 once interim Alvin Gentry restored the team's Nash-and-dash style. Nash's assist-to-turnover ratio went from 2.6 -to 1 to 3.7 -to 1.
I have been critical of the Suns' brass — namely Steve Kerr — all season long.
Back in early February, I wrote about how every move Kerr makes has made the team worse.
His first move as GM was to trade Rudy Fernandez to the Blazers for cash considerations. Then there was the Marion-Shaq trade, which forced Mike D'Antoni out, because he doesn't know how to coach a slow-it-down team. Seemingly every move Kerr makes backfires.

The Suns are now 26-20, they've lost seven of their last 11 games and are hanging on to the #8 seed in the West. They are a shell of that exciting team that we saw in those playoffs two years ago and if Carlos Boozer can come back strong for the Jazz, Phoenix is in serious danger of missing the postseason altogether.
I went into more detail about Kerr's missteps in this mid-December post.
The Suns are a mess. They probably would have made the playoffs had Amare Stoudemire stayed healthy, but even then, we're they really a contender to make the Finals? For years, the Suns have been giving away first round picks and it has come back to bite them in the end.
Kerr has a lot of work to do. But here's the big question: Given the job he's already done, will he have a chance to clean up his own mess?