Diamondbacks place Webb on the DL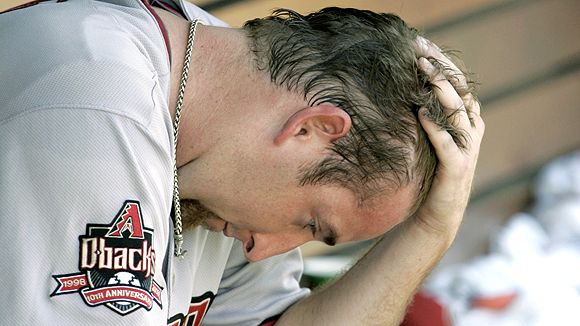 After missing his second start, Brandon Webb has officially been placed on the 15-day DL. Though the move is retroactive to April 7th, Webb will still miss his next start.
Brandon Webb still is not concerned about his right shoulder, but the D-backs ace is on the 15-day disabled list.

The team elected to put him on the DL, retroactive to April 7, after he still felt some soreness in his shoulder while playing catch Sunday morning.

"I want to make sure we're 100 percent when I go back out there," Webb said.
The right-hander began feeling some stiffness following his final start of the spring. He was roughed up a bit on Opening Day, as he allowed six runs in four innings to the Rockies.

Webb was scratched from his next start, which would have been Saturday against the Dodgers, and a precautionary MRI showed no structural damage. The diagnosis from team physician Michael Lee was that Webb was suffering from bursitis, and some fluid in the shoulder might not be allowing for full range of motion.
The Diamondbacks kicked off the 2009 season in their usual mediocre fashion. Webb, who has only once been placed on the DL in his entire career, did not look his usual self in the D-backs opener against the Rockies. The former Cy Young winner doesn't seem too concerned, however, which is great for Arizona's flimsy pitching staff.
Still — come on Brandon! I took you in the second round of my fantasy league based on the fact that you're a 20-win pitcher who never gets hurt. Pair that with Geovany Soto's recent ailments and I'm getting killed. Come back soon — if not for the Arizona Diamondbacks, then for me.