Browns not sold on Brady Quinn?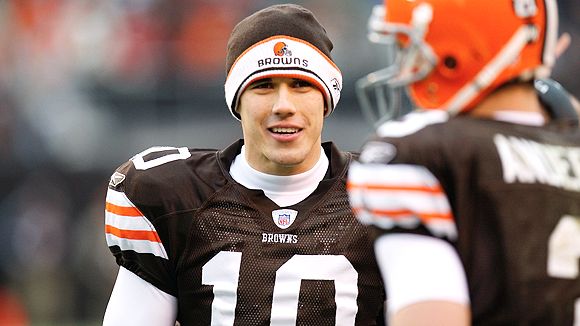 Here's an interesting rumor about Brady Quinn and the Browns:
The Sports Guy remains atop my rotation. I was listening on the way home last night, and surprisingly found a Rotoworld blurb when listening to Mike Lombardi talk Brady Quinn.

"I'm just hearing things out of Cleveland that don't make me feel Brady Quinn is part of their future. … (Quinn's) support has left the building. We used to call it sponsorship at the Raiders. When your sponsorship goes, you aren't the same player."

Quinn's "sponsorship" was given out by former GM Phil Savage, and he's long gone. We've documented that Lombardi isn't a huge fan of Quinn recently, saying he lacked accuracy. That's an opinion that doesn't really matter. It matters if the Browns agree with him. It's looking more like they do.

And you thought Eric Mangini was unpopular in Cleveland now. Wait until he trades boy wonder!
Obviously this is all just speculation, but it's interesting nonetheless. Mangini is already in a rift with defensive tackle Shaun Rogers and it's clear that he's not playing favorites. So there's no reason to believe that Quinn will be guaranteed a starting job and if Mangini feels that he isn't the Browns' future, then there would be no stopping him pursuing one of his own guys.
Boy, the Mangini era in Cleveland has really started off with a bang!